Sports Betting Officially Starts At Monmouth Park As Gov. Murphy Makes First Bet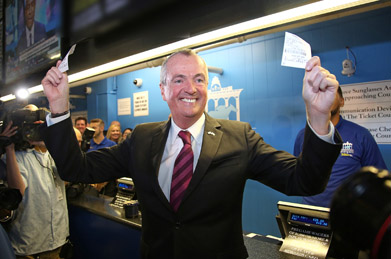 Gov. Phil Murphy officially launched sports betting in New Jersey on Thursday morning at Monmouth Park when he placed $20 on Germany to capture the World Cup and a $20 future bet on the New Jersey Devils to win the 2019 Stanley Cup. 
Flanked by Dennis Drazin, chairman and CEO of Darby Development LLC, operators of Monmouth Park, former state senator Raymond Lesniak, Assembly Speaker Craig Coughlin, and Joe Asher, CEO of William Hill U.S., Gov. Murphy placed his wagers with teller Quinton Harris at 10:38 a.m. Nearly 1,000 patrons then made their way to the 15 designated sports betting tellers in the grandstand to place wagers on a variety of sports and proposition bets available. 
Another six tellers took sports bets in the William Hill Race and Sports Bar as Monmouth Park celebrated the long-awaited start of legalized sports betting in the state with a flourish. 
"It's a historic day for Monmouth Park and for the state of New Jersey," said Drazin. "We've been fighting this fight for more than six years in the courts and now that this day has arrived, and judging by the response from the fans who turned out for this, it's exciting. Clearly, it's something the people of New Jersey have been waiting for." 
Monmouth Park's sports betting terminals will be open from 10 a.m. to 1 a.m. Monday through Thursday and from 10 a.m. to 2 a.m. on Friday. On the weekends, sports betting hours will be 8 a.m. to 2 a.m. on Saturday and 8 a.m. to 1 a.m. on Sundays. 
Live racing is conducted on Saturdays and Sundays in the month of June. 
Gov. Murphy was able to get favored Germany at 7-2 odds to win the World Cup and the Devils at 40-1 to win the Stanley Cup. 
Those wagers closed the chapter on Monmouth Park's nearly seven-year court battle to make sports betting legal in the face of staunch opposition from professional sports leagues and college sports. 
The U.S. Supreme Court sided with Monmouth Park last month in ruling that declared a ban on pro and college sports wagering unconstitutional. 
"We knew in our hearts we were right," Gov. Murphy said. "And we knew in our hearts that we would win. And we did." 
Drazin said he was not surprised by the large turnout for the first day of sports wagering, saying "I always thought it would be well received." 
"The only surprise to me is after the Governor made his bets and Ray Lesniak made his bets that we were engulfed by a sea of people looking to bet," he said. "It was a wonderful sight." 
For more information visit www.monmouthpark.com or www.williamhill.us.