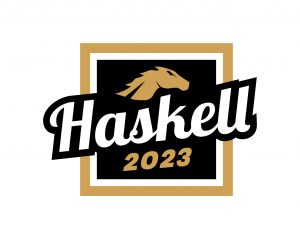 Saturday, July 23
2022 TVG.COM HASKELL CHAMPION CYBERKNIFE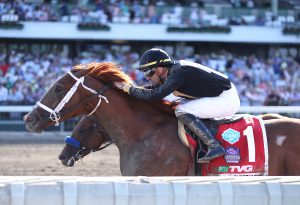 THE 2022 TVG.COM HASKELL FIELD

Photo Courtesy of Al Gold
#1 CYBERKNIFE
Career Record: 8-4-2-0
Career Highlights: Won the G1 Arkansas Derby prior to an 18th-place Kentucky Derby finish.  Has since won the G3 Matt Winn for last year's Haskell-winning trainer.
Owner: Gold Square LLC
Trainer: Brad Cox
Jockey: Florent Geroux
Morning Line: 6-1
#2 TAIBA
Career Record: 3-2-0-0
Career Highlights: Popped off two straight triple-digit Beyer Speed Figures to start his career, including a 102 when winning the Grade 1 Santa Anita Derby.
Owner: Zedan Racing Stables Inc.
Trainer: Bob Baffert
Jockey: Mike Smith
Morning Line: 7-5

Photo by Equiphoto
#3 ONE TIME WILLARD
Career Record: 5-1-0-3
Career Highlights: Broke his maiden at Monmouth Park by over seven lengths.  Two races later, he finished fourth in a restricted turf stakes at Belmont.
Owner: Barrister Breeding, LLC
Trainer: John Stephens
Jockey: Paco Lopez
Morning Line: 30-1

Photo by Coglianese Photos
#4 HOWLING TIME
Career Record: 7-3-1-0
Career Highlights: Finished a nostril behind Cyberknife last month in the G3 Matt Winn.  Has shown considerably-more early speed in last two races – a 5-length allowance score and the heartbreaker last out.
Owner: Albaugh Family Stables LLC
Trainer: Dale Romans
Jockey: Joe Talamo
Morning Line: 10-1

Photo by Equiphoto
#5 KING OF HOLLYWOOD
Career Record: 13-2-2-2
Career Highlights: Won an allowance race at Monmouth on May 29 prior to finishing seventh in the TVG.com Pegasus Stakes.
Owner: Monmouth Stud and Pinnacle Racing Team
Trainer: Gregory D. Sacco
Jockey: Nik Juarez
Morning Line: 30-1

Photo by Coglianese Photos
#6 WHITE ABARRIO
Career Record: 7-4-1-1
Career Highlights: Won the Grade 1 Florida Derby before finishing 16th in the Kentucky Derby.  Was second in the G3 Ohio Derby in his most recent.
Owner: C2 Racing Stable and La Milagrosa Stable, LLC
Trainer: Saffie Joseph Jr.
Jockey: Joel Rosario
Morning Line: 5-1

Photo by Coglianese Photos
#7 JACK CHRISTOPHER
Career Record: 4-4-0-0
Career Highlights: He's undefeated and a 10-length winner of the G1 Woody Stevens last out.  This will be his two-turn test.
Owner: Bakke, Isbister, Gerald, Coolmore Stud & Peter M. Brant
Trainer: Chad Brown
Jockey: Jose Ortiz
Morning Line: 3-2

Photo by Equiphoto
#8 BENEVENGO
Career Record: 4-3-0-0
Career Highlights: Finished fourth in the Long Branch Stakes before coming back to beat older rivals in a first-level allowance here at Monmouth.
Owner: Wasabi Ventures Stables LLC
Trainer: Jesus Cruz
Jockey: Angel Rodriguez
Morning Line: 20-1
TICKET INFORMATION
General Admission for TVG.com Haskell Day is $20.  Reserved Seats start at $5.  FREE Parking.
Reserved seats, general admission, reserved picnic tables and more are on-sale now at www.seatgeak.com/monmouth.  General Admission is also available day-of.
SPECIAL WAGERING POOLS
$200,000 Estimated Win-Early Pick 5 (Races 1-5)
$400,000 Guaranteed Pick 4, ending in the Haskell (Races 9-12)
$200,000 Guaranteed Pick 5 (Races 10-14)
ON-SITE ENTERTAINMENT
Live Music from Carnival Dogs 12:30-4:30pm
FREE Family Fun Day activities in the Picnic Area 12-4pm
Best Dressed Couple and Best Hat Competition – Winners receive a $100 bet on the Haskell
When is the TVG.com Haskell Stakes?
The 2022 TVG.COM Haskell Stakes is Saturday, July 23.
Ticketing Information
Tickets for the 2022 TVG.com Haskell are now on-sale at www.seatgeek.com/monmouth.  All General Admission and reserved seating tickets are available in advance.  Please note, reserved seats do not include General Admission – an additional GA purchase will be required.  General admission can also be purchased day-of.  For dining reservations, call 732-571-5459.  Parking is FREE.
Haskell Day General Admission is $20.  (Children 12 and under are free.)
Reserved section individual picnic tables are available for pre-purchase at seatgeek.com/monmouth.  Frontside tables are $350, backside tables $250.  All tables include General Admission and Program for eight people.  All first-come, first-served tables remain free on Haskell Day.
Is There Free Seating Anywhere on Haskell Day?
Free seating is available in the picnic area, on all benches throughout the facility, and at select tables throughout the facility.  If you wish to purchase reserved seating, you may do so in advance at seatgeek.com/monmouth.
Dining Room Information
To make a reservation for the Dining Club, call 732-571-5459.  The Haskell Day Dining Club menu features an all-day buffet for $75.
The Summer Wind Information
The Summer Wind will be taking reservations this TVG.com Haskell Day. Our NEW trackside destination has the best views of the track and delicious food. Lunch is served 12:30-5pm for $50.
To make a reservation please call 732-571-5459
What Time To Gates Open/When Should I Arrive Haskell Day?
Gates open 9am.  If you are looking to sit at a free picnic table, it is recommended to be in line prior to the gates opening.  Picnic tables are reserved very quickly on Haskell Day.
The day's first race is 12pm.
Can I bring my own food and beverage?
Yes, coolers are permitted in the picnic area only.  All coolers must enter through the picnic admission gate.  Beer and wine only, no hard alcohol.
How many races will there be on Haskell Day, and what race is the actual TVG.com Haskell Stakes?
Haskell Day 2022 will have 14 races with the Haskell itself scheduled as Race 12. Post time for the TVG.com Haskell is currently set for approximately 5:45pm.  Haskell Day's first race is scheduled for 12pm.  The final race will run at approximately 6:50pm.
How do I get my Haskell hat?
All Haskell attendees will receive a Haskell hat at the admission gates, with paid admission while supplies last.  Additionally, Haskell hats will be available for purchase online.
What Other Activities Will Be On Haskell Day?
Live music from The Carnival Dogs will take place 12:30-4:30pm just inside the main Grandstand entrance.  Free Family Fun Day activities – including clowns, facepainters and pony rides – will be available in the picnic area from 1-5pm.
Best Dressed Competition Info
Dress to impress this Haskell Day for the chance to be awarded Best Hat or Best Dressed Couple.  Winners will receive a $100 bet on the Haskell.
What is the dress code at Monmouth Park?
In the Grandstand, shirts must be worn at all times. In the Clubhouse, proper attire is required: no swim wear, sweats, tank tops or abbreviated wear. There is a Country-Club Casual dress code in the Parterres. Dress jeans are permitted. For men, jackets are requested and collared shirts are required. For ladies, appropriate dress is required. Absolutely no sportswear (i.e. sweatpants, jogging suits, etc), shorts, tank tops, abbreviated wear, sneakers or flip flops will be permitted.
However, it is Haskell Day so dress to impress for the biggest race at the shore. Flaunt your largest hat and strut with your brightest colors!
Where is the gift shop located?
Our gift shop is located on the first floor of the Grandstand. Mobile gift shop carts can also be found roaming throughout the facility.
Can I purchase photos and videotapes of races?
Videotapes may be purchased through the Media Relations Department and photos from Bill Denver of Equi-Photo. Both are located on the first floor of the Administration Building, adjacent to the paddock.
Can I watch The TVG.com Haskell on TV from Home?
The TVG.com Haskell Stakes will be shown live on CNBC from 5-6pm.
Is there any way for me to bet on the TVG.com Haskell from my computer at home?
NJ residents 18 and older can legally wager online at 4NJbets.com, operated by TVG.  Throughout the country, players can wager on Haskell Day through their approved ADW.