Sacco First in Stable Area as Monmouth Readies for May 5 Opener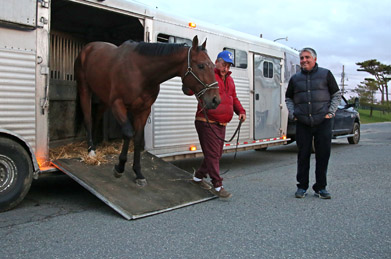 As eager as Gregg Sacco is to return to Monmouth Park every spring, the veteran trainer didn't set out to be the first one on line when the track's stable area officially opened on Friday. That was just a happy coincidence. 
The Sacco-trained Draxhall Woods, newly arrived from Kentucky, was the first horse to set foot on the grounds in advance of Monmouth Park's 52-day meeting that begins on Saturday, May 5 – a card that will coincide with the Kentucky Derby simulcast. 
"Monmouth Park is home so it means a lot to be back," said Sacco, who plans to have nearly 40 horses on the backside after shipping is complete. "It's a special place to be. I'm really looking forward to the meet. There are a lot of good things happening here." 
New racing secretary John F. Heims has been pleased with the response from the horsemen to a meeting that will run through Sept. 9. That will be followed by six all-turf cards at the Meadowlands concluding Sept. 30. 
"I'm very encouraged by the feedback and support we've had from trainers and owners to this meeting," Heims said. "It already feels like we've built some momentum that we can carry through the summer." 
Led by Sacco, horse vans began arriving at 6 a.m. Friday to the backstretch with trainer Chuck Spina, embarking on his 48th year at Monmouth Park, among the early arrivals. The majority of the 15 horses he will eventually have on the grounds quickly settled in following a short trip from Overbrook Farm in Colts Neck. 
"It means it's the beginning of spring and summer," said Spina. "Those of us who have been coming here for years always look forward to this. It's a fresh start at a great place to be." 
Jorge Navarro, seeking a record-tying fifth consecutive trainer's title, made his presence felt right away with the arrival of three vans of horses adding to the early morning backside activity.   
Monmouth Park's May 5 opening card will have a special 1:45 p.m. post time, with gates opening at 10 a.m.   
For more information, visit www.monmouthpark.com.