Monmouth Park, Woodbridge & Hillsborough OTWs Set for Kentucky Derby Simulcast This Saturday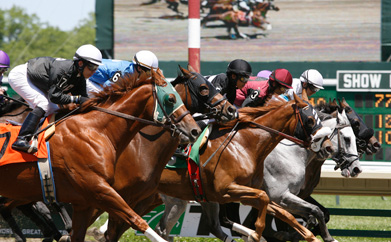 Oceanport, N.J. – Monmouth Park Racetrack and its OTWs in Woodbridge and Hillsborough are set to beam-in all the action from Churchill Downs as the 142nd running of the Kentucky Derby runs on Saturday, May 7, just one day after the renewal of the Kentucky Oaks. 
          Additionally, the Hillsborough OTW, which opened just last year, will play host to "Dinner & Derby Talk", a special Kentucky Derby seminar on Thursday, May 5, featuring renowned racing writer Jerry Bossert.  That program runs from 6:30 to 8 p.m. and for $35 features a pre-fixe three-course dinner at McLoone's Restaurant, a $5 wagering voucher and expert analysis on this year's Run for the Roses.  Reservations can be made by calling 908-704-2189. 
          At all three facilities, Kentucky Derby Day doors open at 9:30 a.m., mutuel machines open at 10 a.m.  On Friday, Kentucky Oaks Day, the OTWs will open at 10 a.m., while Monmouth Park's doors open at 9:30 a.m. 
          Advanced wagering on the entire Kentucky Derby card begins at noon on Friday. 
          For more information, visit www.monmouthpark.com.