Monmouth Park to Start Sports Betting Thursday, June 14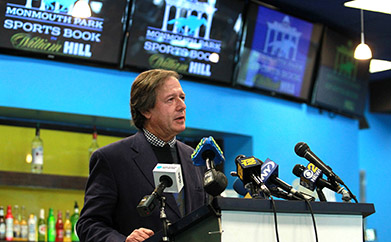 Monmouth Park Racetrack will be the first in the state to allow sports betting when New Jersey Governor Phil Murphy makes the initial wager at the historic racetrack at 10:30 a.m., Thursday, June 14.
"We're delighted to welcome Governor Murphy to Monmouth Park for this momentous occasion," said Dennis Drazin, Chairman and CEO of Darby Development LLC, operators of the racetrack."Throughout this process Governor Murphy has always had Monmouth Park's back and as a Monmouth County resident we're delighted that sports betting in New Jersey gets started right in his backyard.
"We are thankful to all those who will make this Thursday a day long remembered and even more so, looking forward to sports fans from all over converging on Monmouth Park to partake in sports betting, which was overwhelming approved by Garden State voters nearly seven years ago."
Thursdays first wagers will take place at 10:30 a.m. when Governor Murphy, an avid soccer fan who has called ESPN's "Sportscenter" his favorite show, places the first bet.He's expected to be joined by former state senator Raymond Lesniak, who championed sports betting from Day One, as well as former Governor Chris Christie, U.S. Congressman Frank Pallone, Senate President Steve Sweeney and Assembly Speaker Craig Coughlin. The Monmouth Park Sports Book by William Hill, located on the first floor of the Grandstand, will open to the public shortly after the first wagers and in time for World Cup Soccer, which kicks off Thursday with Saudi Arabia vs. Russia at 11 a.m. EDT.
In addition to future wagers on the Super Bowl and World Series, Thursdays sports betting menu will include a whole host of proposition (prop) bets as well as Thursday single game action, which includes Major League Baseball – Colorado at Philadelphia in the afternoon and night games Tampa Bay at New York Yankees and New York Mets at Arizona.The sports book will remain open through the conclusion of the Mets game Thursday.
This week's schedule for the Monmouth Park Sports Book will see an 8 a.m. opening on Friday and again on Saturday and Sunday (Father's Day) when the track also hosts live Thoroughbred racing, which gets underway at 12:50 p.m.
Sports betting became permissible when the United States Supreme Court struck down the Professional and Amateur Sports Protection Act on May 14 of this year.Last week the state legislature unanimously passed sports wagering legislation for New Jersey with the governor's signature cementing the racetrack's opening later this week.
For more information, visit www.monmouthpark.com or www.williamhill.us.