Monmouth Park to Run 52 Days in 2018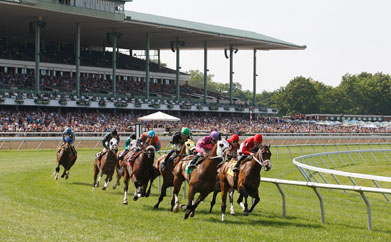 Monmouth Park Racetrack will conduct 52 live race days in 2018 with an additional six all-turf cards to follow at the Meadowlands. 
          With approval from the New Jersey Racing Commission granted on Wednesday, Monmouth Park has been given the green light to commence its 2018 season on Saturday, May 5 – Kentucky Derby Day.  Following that card, racing will run Saturdays and Sundays in May with the addition of Memorial Day Monday, May 28.  The month of June will also see live cards on Saturdays and Sundays. 
          The next holiday card will be Wednesday, July 4 and following that weekend's races, Fridays will be added to the live menu. 
          August will see the addition of four Thursdays on the 2nd, 9th, 16th and 23rd, while September will race Saturdays and Sundays as well as Monday the 3rd for Labor Day. 
          Racing will shift north to East Rutherford on Sept. 14, with the first of six turf programs that will run on Fridays and Saturdays at the Meadowlands through the end of the month. 
          For more information, visit www.monmouthpark.com.