Monmouth Park to Offer Owner/Trainer Bonuses in 2018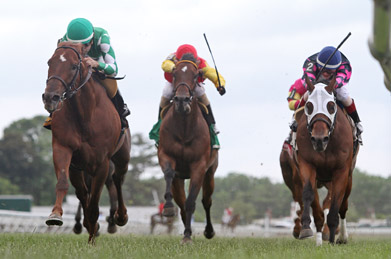 Monmouth Park will kick off its 52-day meeting on Saturday, May 5 – Kentucky Derby Day – with some added twists this season, including bonus money to owners and trainers who start horses at the meet. 
            In non-state-bred races, all owners will be guaranteed a minimum of $500 per starter, while all trainers will receive $300 for each horse that runs.  Bonuses will not apply to stakes races. 
            In addition, Monmouth Park will offer free workers' compensation insurance.  A blanket policy will be provided by the New Jersey Injury Compensation Board to cover employees of trainers stabled at Monmouth Park. 
            "Our primary goal is to increase field size," said Dennis Drazin, chairman and CEO of Darby Development LLC, operators of Monmouth Park.  "The wagering public has made it clear that they want full, competitive fields.  Our bonus program and workers' comp plan will help us deliver what racing fans want. 
            "This new approach, particularly for New Jersey-bred runners who face open company, creates a reward system that benefits all participants, while simultaneously enhancing our primary objective of increased field size."   
            In another new twist this year, the racetrack will host its first card one week earlier than in years past, as a live program will be offered the same day as the Kentucky Derby.  Furthermore, to facilitate horses shipping to winter destinations, the stable area will remain open until Oct. 31. 
            "I've heard from numerous trainers at Tampa that any lapse in stabling between our two facilities causes great hardship," Drazin said.  "This new schedule alleviates that dilemma and is among the first in a slew of changes and improvements for the 2018 racing season – ones that I'm sure will prove popular on all levels throughout the industry."  
            The 2018 live Monmouth Park meet will run from May 5 through Sept. 9, followed by six all-turf cards at the Meadowlands concluding Sept. 30.  Stabling at Monmouth will be offered from April 20 through Oct. 31. 
For more information, visit www.monmouthpark.com.