Monmouth Park Stall Applications Now Available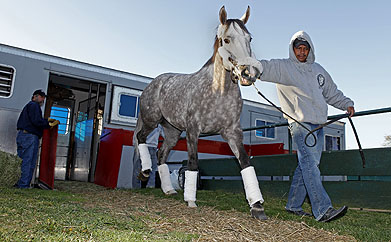 OCEANPORT, N.J. – Stall applications for the 2018 Monmouth Park racing season are now available online at www.monmouthpark.com under the horsemen's tab.  In addition, horsemen can pick up a hard copy of the application in the Monmouth Park administration building as of today.  Completed applications are due back in the racing office no later than Thursday, March 15. 
          The 2018 Monmouth Park racing calendar kicks off on Saturday, May 5, 2018 – Kentucky Derby Day.  The 2018 racing season will run from May 5 through September 9, with the stable area opening on April 20 and closing Oct. 31. 
          For 2018, all trainers will receive a $300 starter bonus with all owners guaranteed $500 per runner.  Bonuses are not applicable in stakes or state-bred races. 
          In addition, trainers stabled at Monmouth will be covered by a blanket worker's compensation policy, provided by the New Jersey Injury Compensation Board. 
          For more information, call 732-222-5100 or visit www.monmouthpark.com.