Monmouth Park Stable Area Opens, Plesa 1st in for May 14 Opener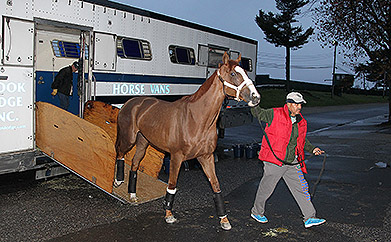 Oceanport, N.J. – Just after 5 a.m. horses for trainer Eddie Plesa Jr. rolled through the Monmouth Park stable gate, the first in a long line of vans that will return the equine athletes to the Jersey Shore for Monmouth Park's 2016 racing season, which gets underway on Saturday, May 14. 
"Just glad to be at Monmouth Park," said Plesa, who will have a stable of 40 plus horses this year.  "It's a beautiful place, a great place to spend the summer.  The racetrack and the whole facility are just excellent.  I always look forward to getting back to Monmouth." 
Plesa, who captured last year's Pegasus Stakes with Mr. Jordan, and went on to start him in the Haskell, will have that runner back here this summer. 
"He's put on some weight and really muscled up since last year," Plesa said of the striking gray colt.  "With older horses I never really worry about finding a race for them.  He'll tell us when he's ready and where to go and we'll be there for the ride." 
In addition to Mr. Jordan, the Plesa trained Awesome Slew, who races in the colors of Live Oak Plantation, is headed back to Monmouth, the site of his maiden score last year. 
"He's coming along really well," Plesa said.  "He was impressive over this track last year and after we ran at Saratoga (fourth in the Grade 3 Sanford Stakes) we just gave him time off.  I'm looking forward to having him back." 
Other early arrivals on Saturday morning were trainers Jane Cibelli, Patricia Farro, Lloyd Kromann and Gregg Sacco. 
Once again the 2016 racing season will be highlighted by the $1 million Haskell Invitational, set for Sunday, July 31.  Last year's Haskell saw records fall as Triple Crown winner American Pharoah wowed a crowd of more than 60,000 en route to Horse of the Year honors. 
          Other highlights of this year's racing season include four additional graded stakes on Haskell Day:  Molly Pitcher, Monmouth Cup, Matchmaker and Oceanport.  In addition, the Grade 1 United Nations Stakes will be renewed on July 3, just one day after the Grade 3 Salvator Mile.  The Grade 3 Philip H. Iselin Stakes for older horses goes on Aug. 27.  The first graded stakes of the season is slated for June 5 with the Grade 3 Red Bank.   
For more information, visit Monmouth Park online at www.monmouthpark.com.