Meadowlands Thoroughbred Meet to Offer 15% Across the Board Takeout, Lowest in the Country for 14-Day All-Turf Cards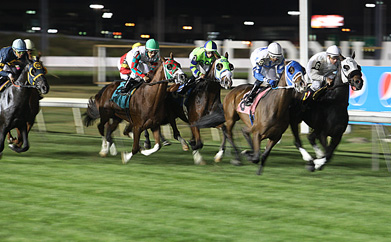 Oceanport, N.J. – The Monmouth-at-Meadowlands all-turf Thoroughbred meet, which raises the curtain on Wednesday, Sept. 28, will once again be at the forefront of the racing industry when the 14-day stand offers an across the board takeout rate of just 15%, the lowest takeout in the nation. 
Highly regarded as one of the premier turf courses in the nation, the Meadowlands meet will feature live programs through Oct. 19. 
"While other tracks have offered lower takeouts on specific bets, we are going across the board on all wagers," said Dennis Drazin, advisor to Darby Development LLC, operators of the Monmouth-at-Meadowlands meet.  "You hear over and over again that fans want big fields, low takeout, competitive racing and that's what we are set to offer." 
Last year's Meadowlands Thoroughbred meet saw average field size of 9.9, which was a 13% increase over the year prior.  Handle in 2015 was 19% more than the year before and 25% better than the year prior to that. 
"While it's a compact meet, the Meadowlands has certainly gained the backing of horsemen and racing fans over the past several years," Drazin said.  "We're going to look to add to those numbers and concoct a winning formula for all interested parties. 
"Our goal is to not only reward those that have followed the all-turf Meadowlands programs the last several years, but to bring new faces to the facility and our simulcast markets.  This is an interesting experiment and one that we hope proves popular with the fans and continues to build on the Meadowlands Thoroughbred momentum." 
With approval for the new takeout structure granted by the New Jersey Racing Commission on Sept. 14, the across the board takeout rate of 15% will replace the previous takeout rates which were: 17% for win, place and show wagers; 19% for exactas and daily doubles; 20% for the Jersey Six; 25% for pick threes, trifectas and superfectas; and, 15% for the pick four and pick five. 
The Meadowlands Thoroughbred action kicks off at 7 p.m. on Sept. 28 with that post time prevailing through Oct. 15.  The racetrack will race Wednesdays through Saturdays for the first two weeks before switching to a Thursday through Saturday schedule (Oct. 13, 14 and 15).  The final three cards will be afternoon events on Oct. 17, 18 and 19, with a 1:10 p.m. post. 
For more information visit www.monmouthpark.com or www.playmeadowlands.com.