Julie Krone Autograph Session/Meet-and-Greet Monday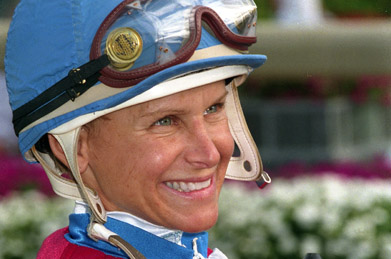 Oceanport, N.J. – Hall of Fame jockey Julie Krone will return to Monmouth Park on Monday, Sept. 4, for an autograph session/meet-and-greet as an ambassador of the HH Sheikh Mansoor Bin Zayed Al Nahyan Global Arabian Horse Flat Racing Festival, who will host two live Arabian races on the day's program. 
          "It's been years since I've been back to Monmouth," said Krone, who retired from the saddle in 2004.  "It's one of the most beautiful places I've ever been and it's where I established my career.  I can't wait to be back at Monmouth and to see so many familiar faces that meant so much to me.  It will be a great homecoming." 
          That homecoming has been nearly 20 years in the making as Krone rode her last race in Oceanport in 1999. 
          Leading rider at Monmouth from 1987-1989, Krone went on to national stardom, becoming the first female jockey to pilot a Triple Crown race winner (1993 Belmont Stakes atop Colonial Affair) and to capture a Breeders' Cup race (2003 Juvenile Fillies with Halfbridled).  She was inducted into the National Museum of Racing and Hall of Fame in 2000, the only female rider to receive the sport's highest honor. 
          "Julie Krone embodies everything that is good about horse racing," said Lara Sawaya, Executive Director of HH Sheikh Mansoor Bin Zayed Al Nahyan Global Arabian Horse Flat Racing Festival. "We are honored to have her as an ambassador of our racing festival and look forward to her return to Monmouth Park." 
          As part of a full slate of racing action, Monday's holiday card will include two Arabian races, the HH Sheika Fatima Bint Mubarak Apprentice World Championship and the Grade 1 Shk Zayed Bin Sultan Al Nayhan Cup, the third leg (Diamond) of the Triple Jewel Series. 
          Gates will open 11:30 a.m., with first post that day set for 12:50 p.m.  For more information, visit www.monmouthpark.com or www.arabianracing.org.