Bocachica Wins Two on Big M Opening Night; Jersey Six Carryover Into Thursday's Card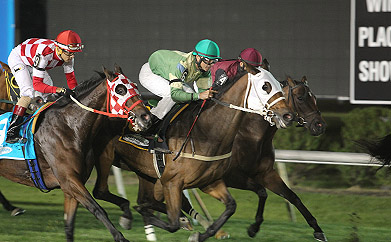 Jockey Orlando Bocachica scored a pair of wins on Wednesday night as the Meadowlands Racetrack kicked off its 14-day all-turf Thoroughbred meet featuring a 15% across the board takeout.
            Bocachica's double started right from flag fall, taking the opener atop In a Flury, paying $12.80 for owner Gene McLean and trainer Stephen S. Lyster.  Four races later he took the fifth with Desert Folly ($4) for Darby Roads LLC and trainer Anthony Margotta Jr.
            No one selected all winners in the opener's Jersey Six resulting in a carryover of $1,835.44 for Thursday's card.  The Jersey Six is offered daily on the entire six-race program and has a 20-cent base wager.  To win the entire pool, one lone ticket must sweep the entire card.
            The Meadowlands will race Wednesdays through Saturdays through Oct. 8 after which the racetrack will host live cards from Oct. 13 – 15.  Post time will be 7 p.m.  The final three cards, with a 1:10 post, are set for Monday, Oct. 17, Tuesday the 18th and Wednesday the 19th.
            For more information visit www.monmouthpark.com or www.playmeadowlands.com