76 Horses Entered for Friday's 6-Race Meadowlands Opener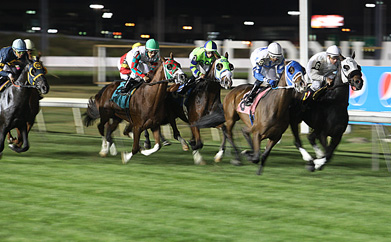 The Meadowlands kicks off the first of eight all-turf race cards on Friday, Sept. 22, with 76 horses entered across the six-race program.
            Friday's action will be highlighted by a $37,500 allowance feature at five furlongs, which goes as the fifth race on the program.
            The Monmouth-at-Meadowlands meet runs through Saturday, Oct. 28, with live racing Fridays and Saturdays in September, followed by Saturday cards throughout October.
            Post time will be 7 p.m. nightly, with the exception of Oct 28, when post is 5:30 p.m. 
            A full slate of activities and dining options will be available throughout the Monmouth-at-Meadowlands meet, topped by a Journey and U2 Tribute Concert by Almost Journey and 2U live in the Victory Sports Bar on Saturday, Oct. 14.  Tickets are $25 online or $35 at the door.  One week later, and following live racing, Enough Said will rock the Victory Sports Bar with tickets going for $8 online or $10 at the door.
            In addition, a slew of promotions pepper the race meet starting with Change Your Luck this Saturday. Losers can be winners with $50 betting vouchers after every race.  Fans can simply write their name on the back of any losing ticket and deposit them in the bin on the first floor of the Grandstand.  Two winners will be drawn after each live Thoroughbred race that evening.
            On Sept. 30, fans can enter the Text to Win Night.  Non-members of the Big M's text-to-service club can join by texting "NewBigM" to 23819 for an automatic sign up.  Anyone showing their text to the Players Club Desk by 8 p.m. will receive a free $5 voucher with additional prizes to be given away throughout the night.
The world-famous Budweiser Clydesdales are back in East Rutherford on Oct. 7, and will be available for a meet and greet from 6 to 7 p.m. The team will parade down the racetrack following the second race on that night's program.  Additionally, the day will feature a $400 National Horseplayers Championship qualifying contest, with no limit on entries.
            And to close it out on Oct. 28 it's the Players Club Swipe N Score promotion.  Players Club members can swipe their card at any kiosk to win prizes ranging from $2 to $250.
            All season long Trotters will be serving a buffet on all live race days with Pink open on Saturdays.  In addition, the Victory Roof Top Terrace will be open, weather permitting, all live race days.
            There's free parking, free admission and free seating, both inside and out at the Meadowlands.  Live programs will be $2, simulcast books $4.  Valet parking will be offered for $5.
            For more information visit www.monmouthpark.com or www.thebigm.com or call 732-222-5100 or 201-460-4043.