50-Day Countdown to 50th Betfair.com Haskell Has Begun; All-Time Great Simulated Race Highlights 50th Haskell Promotions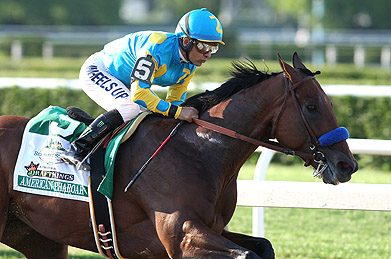 50-DAY COUNTDOWN TO 50TH BETFAIR.COM HASKELL HAS BEGUN; 
ALL-TIME GREAT SIMULATED RACE HIGHLIGHTS 50TH HASKELL PROMOTIONS 
OCEANPORT, N.J. – The calendar reads fewer than 50 days until the 50th running of the Grade 1, $1 million betfair.com Haskell Invitational on Sunday, July 30 at Monmouth Park Racetrack and a variety of promotions and perspectives will countdown to the historic race.
Taking center stage in the pre-race promotion is the All-Time Haskell Great Simulated Race which matches the 12 greatest Haskell champions all in one starting gate.  To build up to the simulation, fans can take a shot at historic handicapping. 
Throughout the next five weeks, fans can visit www.monmouthpark.com/haskellsimulation to view the post parade and submit their "simulation superfecta" selections.  One lucky fan who correctly picks the winning superfecta will receive a VIP trip for two, including flight and hotel accommodations, to the 2018 Haskell.
The field for the simulated race, in post position order with year they won the Haskell, is: Skip Away (1996), Holy Bull (1994), Big Brown (2008), Forty Niner (1988), Serena's Song (1995), Point Given (2001), Bet Twice (1987), Wajima (1975), American Pharoah (2015), War Emblem (2002), Rachel Alexandra (2009), and Majestic Light (1976).
Fans can submit their superfecta selections until Sunday, July 23.  The final simulation will be shown the week of the 50th Haskell.
"Over the past 49 years, the Haskell has seen some of racing's biggest stars put on some of our sport's greatest performances," said Brian Skirka, marketing manager for the racetrack.  "To put 12 of the all-time best Haskell champions in one starting gate is not only something that we think our fans will be excited to see, but something that we are anxious to see as well."
Additionally, fans can go to www.monmouthpark.com to sign up for the track's VIP Haskell Experience – a social media contest which will award a VIP trip for two to this year's 50th betfair.com Haskell.  The contest runs now through July 4.
Working in cooperation with America's Best Racing and videographer Brian Caldwell, Monmouth Park has produced a promotional video featuring footage of the greatest Haskells of all time.  The video will be posted to Monmouth Park's social media, website and via America's Best Racing in the coming days.
At the track, Haskell weekend will once again kick off with Ladies' Day, sponsored by Lilly Pulitzer Shops at Riverside, on Saturday, July 29 featuring a Lilly Pulitzer fashion show, hat contest and much more.  This year's event will raise money and awareness for the Breast Cancer Research Foundation.
As always, Haskell Day will feature a commemorative hat giveaway which is free to all with paid admission, while supplies last.
This Sunday's Grade 3, $100,000 betfair.com Pegasus Stakes is the first local step on the road to the 50th Haskell, and a chance for the equine athletes to get a feel for the Monmouth surface.  Just four years ago, Verrazano used the Pegasus as a precursor to his impressive 9 ¾-length romp in Monmouth Park's signature event.              
Reserved seats for the 50th betfair.com Haskell are on-sale now at www.monmouthpark.com/tickets or by calling 732-571-5580.