Zhou Blows Doors Off Simulcast Series Challenge #4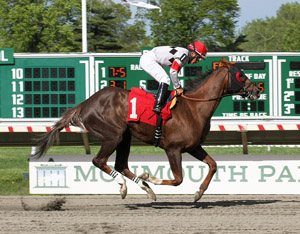 Monmouth Park's fourth and final $250 Simulcast Series Challenge Qualifier was held Saturday, April 27 and the runaway winner was Tony Zhou of Jersey City, NJ.
Zhou hit big early and bested a field that included 127 entries. He turned his starting $150 bankroll into an impressive $4,100.50 by betting races from Belmont, Gulfstream and Laurel. Contest players could only bet win, place and/or show and needed to bet a minimum of $15 per race.
By finishing first, Zhou takes home the first-place cash prize of $6,350. In addition, he takes home a spot in the May 11 Simulcast Series Challenge Invitational as well as a seat in the $2,000 Pick Your Prize Handicapping Challenge on June 1. The rest of Saturday's Top 10 finishers will be joining Zhou in the Invitational. The Top 2 finishers in the Invitational will earn a 2020 NHC seat.
Saturday's qualifier was the last of four 0% Takeout Bankroll Builder qualifiers in the SSC. In addition to the SSC Invitational on May 11, there will also be a $250 NHC Qualifier open to all players awarding NHC seats to the Top 2 finishers.
In total, the Top 10 finishers are:
| | | | |
| --- | --- | --- | --- |
| Finish | Name | Bankroll | Prize |
| 1st | Tony Zhou | $4,100.50 | $6,350+PYP Seat+Invitational Seat |
| 2nd | Joe Perry | $1,362.75 | $2,540+Invitational Seat |
| 3rd | Brian Fairlie | $1,255.80 | $1,524+Invitational Seat |
| 4th | Fiore Esposito | $1,047.50 | $889+Invitational Seat |
| 5th | Frank Salsano | $1,030.90 | $444.50+Invitational Seat |
| 6th | Jeffrey Benenati | $855 | $190.50+Invitational Seat |
| 7th | Mitch Schuman | $845.05 | $190.50+Invitational Seat |
| 8th | Roger Hammer | $773.50 | $190.50+Invitational Seat |
| 9th | Damiano Sasso | $702.50 | $190.50+Invitational Seat |
| 10th | Kevin Engelhard | $640.50 | $190.50+Invitational Seat |