With Some "Coaching" From His Dad, Apprentice Luis R. Rivera Jr. Is Making An Impression At Monmouth Park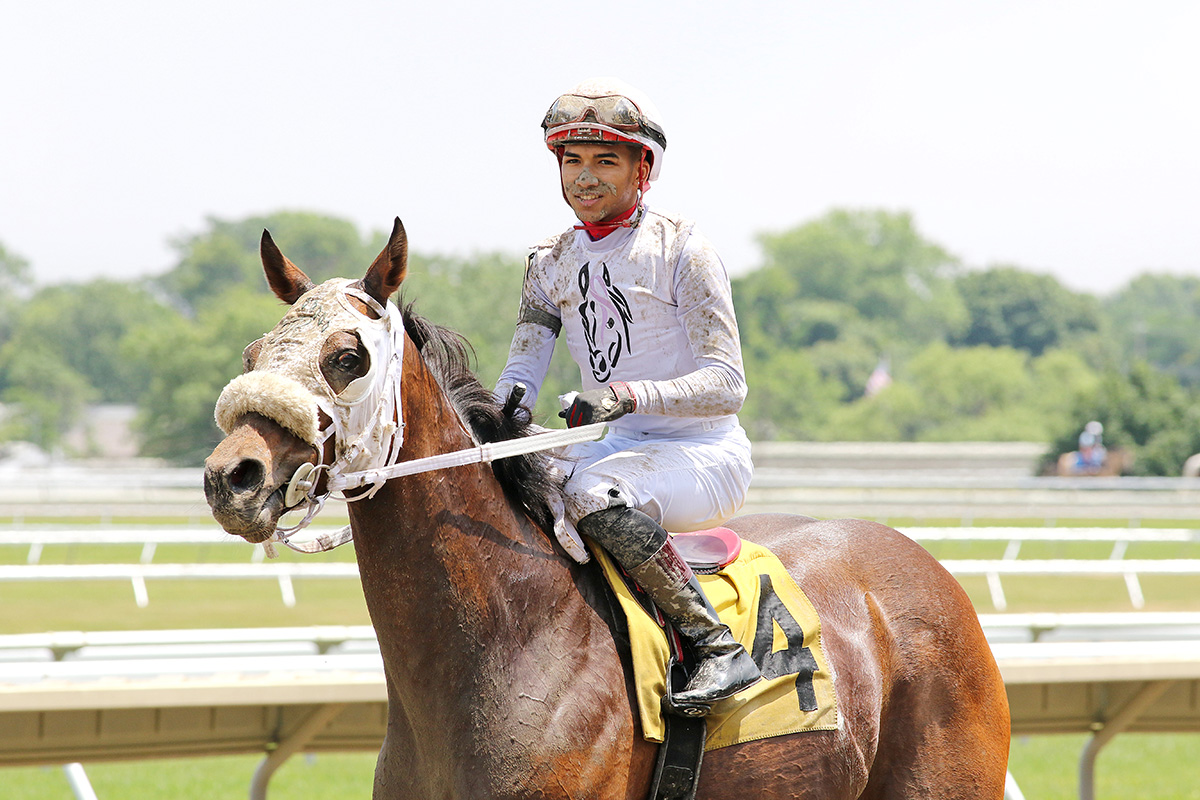 For 19-year-old apprentice jockey Luis R. Rivera, Jr., expert advice and criticism in his first year as a rider are usually just a phone call away.
On the other end of the phone could be his father, Thistledown-based jockey Luis Raul Rivera, or his godfather, Finger Lakes-based jockey Luis Perez.
Since they've combined for more than 30,000 career mounts and more than 5,000 career wins, the younger Rivera listens intently to whatever wisdom they're dispensing.
"After almost every race I talk to my dad," said Rivera, who now splits his time between Monmouth Park and Parx. "He is always telling me the good things I did and the things I need to work on. (Luis Perez) is always calling me too, staying on top of me, telling me what I did good and what I did bad.
"I'm lucky to have two jockeys I admire who are there for me and helping me along."
Rivera, who hails from Loiza, Puerto Rico, has been hearing more praise than critiques for his riding lately. Since officially launching his career on Jan. 1 – he won with his first mount at Camarero in Puerto Rico that day – Rivera has had 40 wins from 270 mounts with his earnings for the year approaching $1 million.
At Monmouth Park he has a 5-3-4 line from 19 mounts, sweeping the early Daily Double last Saturday and just missing a true triple when his horse was beaten a neck in the third race.
"That would have been my first time riding three winners on a card," said Rivera, who has a five-pound allowance through Feb. 5. "I just have to work hard and be patient. Since I have been (in the United States) I am feeling more confident.
"So far, I'm happy with what I've done. I'm riding more and winning more and hopefully owners and trainers will see that."
For Rivera, there was nothing else he wanted to do, having grown up around the racetrack. He spent last year honing his riding skills at Escuela Vocacional Hipica, Puerto Rico's equestrian school.
"Since my dad is a jockey too I have been watching and learning from him for as long as I can remember," said Rivera. "I've been riding since I was a kid.
"This was always my dream, to come to the United States to ride. I want to dream big. I want to ride in the big races like the Kentucky Derby and the Breeders' Cup."
Rivera moved his tack from Puerto Rico to Laurel in February, riding his first race there on Feb. 19 and winning his first race with his sixth starter a day later. He also rode at Charles Town before heading north to ride at Parx and Monmouth Park.
Breaking into an established and competitive jockey colony at Monmouth, however, has been a challenge at times, despite his success so far. He is listed on just one horse on Friday's eight-race Monmouth Park card.
"I know what I have to do to be successful," said Rivera. "I am not afraid to work hard to get to where I want to be."