With Eye Toward the Future, Monmouth Set for Season Opener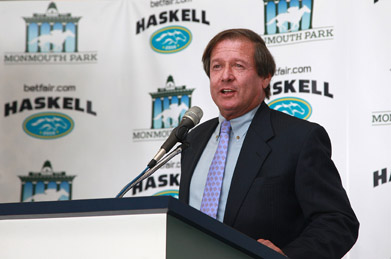 Oceanport, N.J. – The curtain rises on the 71st season of racing at Monmouth Park this Saturday, May 14 as the racetrack ushers in a new race meeting, fresh off the heels of last year's record-breaking Haskell Day and Triple Crown winner American Pharoah's dominating performance in the Grade 1 race. 
Marking the fifth year under the leadership of Darby Development, LLC, Monmouth Park's race meet will once again be highlighted by the $1 million Haskell Invitational set for Sunday, July 31. 
"We've gone from a facility that was previously operated by the state at losses of more than $12.5 million a year and was on the verge of shutting down," said Dennis Drazin, advisor to Darby Development, LLC.  "And now we've turned that corner, have nearly eradicated those deficits and placed us on firmer ground and on a path toward a solid future. 
"In just four short years we have added a new OTW, built a 36-hole miniature golf course, erected Blu Grotto restaurant, opened our own fantasy sports site and made capital improvements to the racetrack; all the while we continue our fight to brings sports betting to New Jersey and are set to become the first in the nation to offer exchange wagering." 
Exchange wagering, which kicks off today, allows for fixed odds and in-race wagering by matching "peer-to-peer" bets. 
"It's been more than four years in the making, but exchange wagering is finally here," Drazin said.  "We are proud that New Jersey Thoroughbred racing is once again leading the way.  This new and innovative gaming idea will prove yet another new revenue stream that will help put us on the path to profitability and ensure the viability of Thoroughbred racing in the Garden State." 
In addition to the advent of exchange wagering, a decision on the most recent sports betting arguments at the Third Circuit is expected in the coming months as is the opening of Blu Grotto, Monmouth Park's new restaurant located near the top of the homestretch.  With conservatory dining, multi-tiered outdoor seating and a large beer garden, Blu Grotto will offer modern and classic adaptations of regional Italian favorites, hand-made pastas, fresh seafood and prime steak coupled with a deep and eclectic wine list and artisanal cocktails. 
"While we have accomplished much, we must continue to persevere to ensure a bright future for New Jersey racing," Drazin said.  "Our management team is committed to our all of the above strategy when it comes to making a fan-friendly racing and entertainment destination that is second to none." 
Monmouth Park's 2016 season runs through Sept. 25. Gates will open at 11:30 a.m. daily with first post set for 12:50 p.m.