Wink Speeds To Three-Quarters Of A Length Victory In Sunday's Colleen Stakes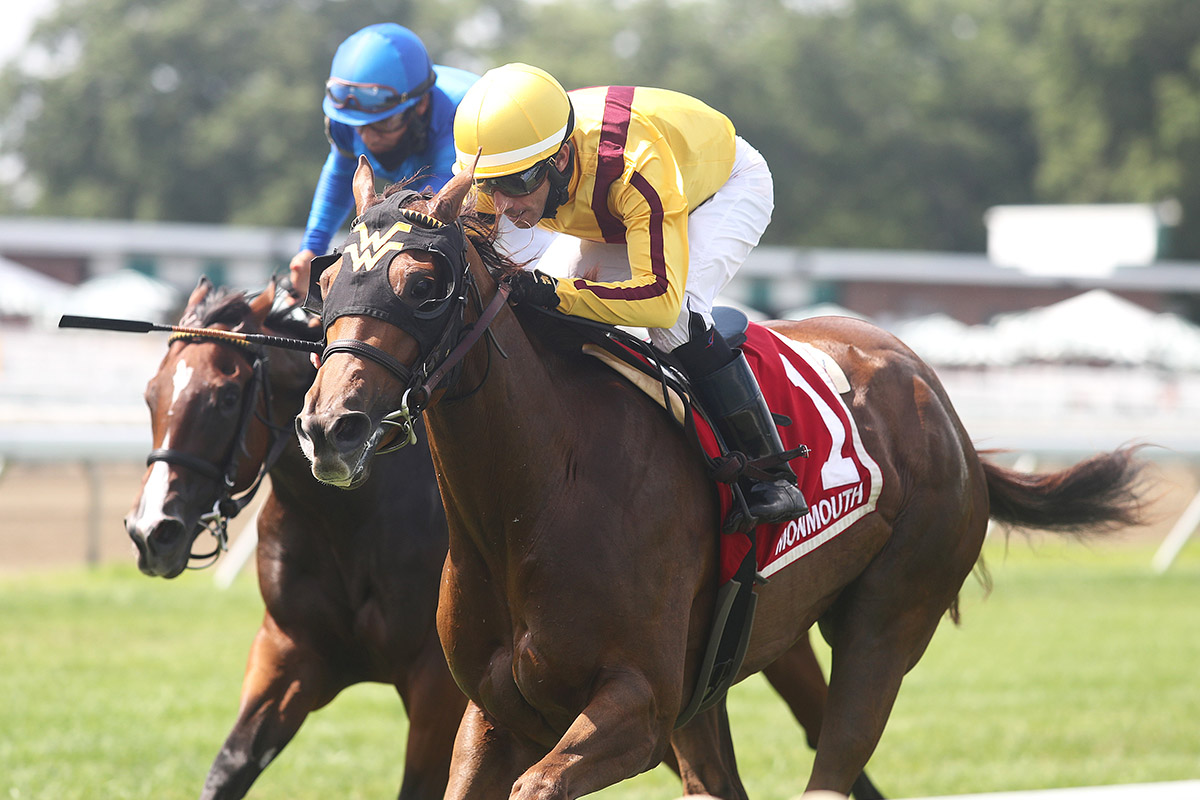 Trainer Wesley Ward said it didn't take long to identify the strengths – and weaknesses – of his speedy 2-year-old filly Wink
She loves the grass and she's a sprinter, predominantly a five-eighths kind.
Because of that Sunday's 82nd Colleen Stakes at Monmouth Park provided the ideal setting for Wink as she blazed to a three-quarters length victory over stablemate Flying Aletha in the $75,000 feature race for freshman fillies.
The favorite in the field of seven, Wink covered the five furlongs over a firm turf course in :56.74 and really never had an anxious moment once jockey Antonio Gallardo got her out of the gate cleanly.
"We liked her as soon as we go her on the grass," said Ward. "From the outset we saw the difference in her on the grass. If she were to run here for a maiden $5,000 tag on the dirt she'd get beat. She can't run a jump on the dirt. She was marginally better when we worked her on the poly track (at Turfway Park).
"But you put her on the turf and she flies. She's all go and she's five-eighths so this suited her perfectly. She's a very fast filly. It looks like five-eighths is her game though. Hopefully we don't have to go five-eighths and a jump."
Owned by Stonestreet Stables LLC, Wink set fractions of :21.12 to the opening quarter and :43.97 to the half. Then it just became a matter of her holding off Flying Aletha, who finished 2¼ lengths in front of first-time starter Kewpie Doll.
A daughter of Midshipman-Dancing My Way by Wildcat Heir, Wink is now 2-for-2 lifetime after winning her debut at Belmont on June 12 in a five-furlong grass sprint.
"This filly has a lot of speed," said Gallardo, who won three races on Sunday's card after capturing the Grade 3 Monmouth Oaks on Saturday. "I watched the replay when she won her first start at Belmont with Javier Castellano. She impressed me. She got an 88 Beyer Speed Figure that day, which is really good. I really liked what I saw.
"Having post one today was perfect, too. She's a nice filly. You just want to make sure you break cleanly because of how fast she is. That's the key with her."
Ward said he went into the Colleen unsure of which filly was the better one.
Flying Aletha won her debut on the dirt at Gulfstream in impressive fashion on May 21 before being sent overseas to Ascot for a Group 3 sprint on June 19. She was a tiring 10th that race.
"She is going to be all right," Ward said. "She went over to Ascot and came back and that can take a little toll on them sometimes but she ran a good race here. I wasn't quite sure which one was better. Wink showed us a lot on the grass, but the other one looked very good when we had her in Florida. Flying Aletha is a bigger filly so maybe the longer they go the better she will be."