Wind Of Change Splashes To 6 1/4-Length Victory In Saturday's Mr. Prospector Stakes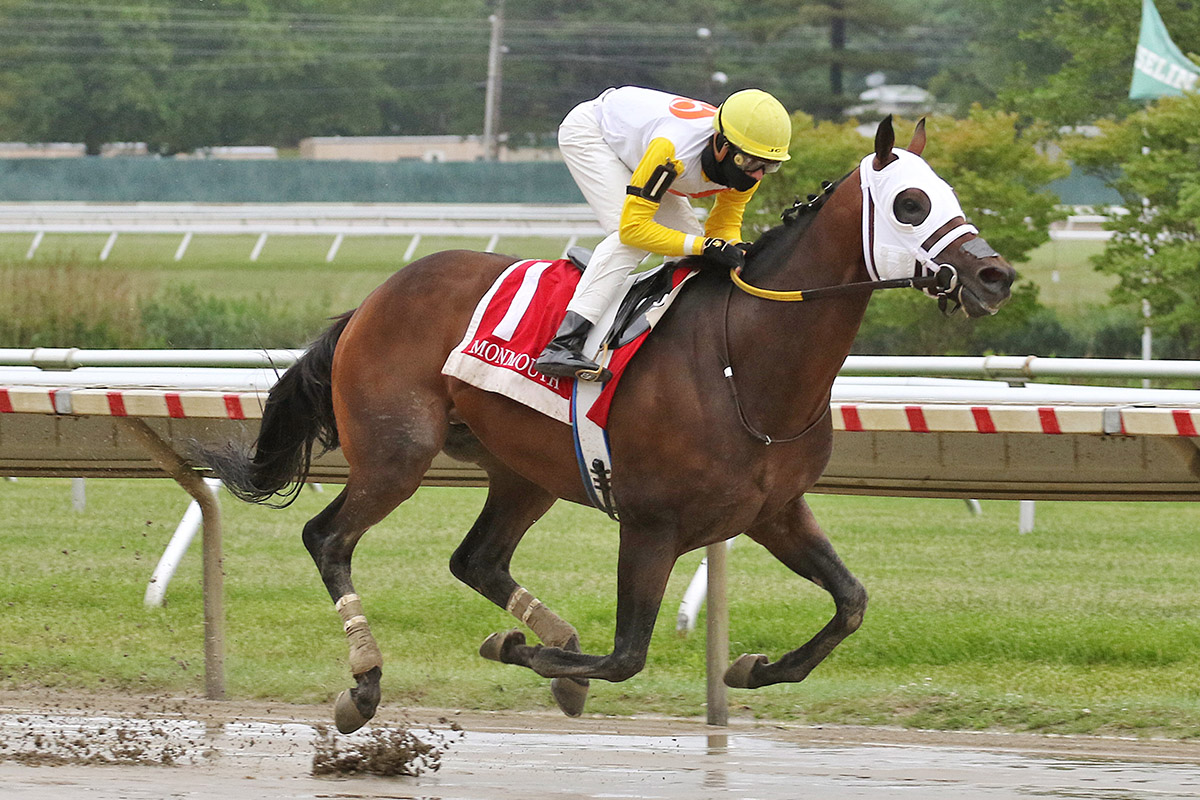 Ever since Saffie Joseph Jr. took over the training for Wind of Change two starts ago he was convinced the 6-year-old was better sprinting six furlongs than going longer, as the horse had been doing.
Saturday's $100,000 Mr. Prospector Stakes at Monmouth Park validated that belief.
Wind of Change, with jockey J. C. Diaz Jr. making his Monmouth Park debut, splashed to an easy 6¼-length victory in the 16th running of the Mr. Prospector Stakes, covering the six furlongs over a sloppy track in a sharp 1:09.60.
It marked the first stakes victory in the United States for Wind of Change, who started his career in Brazil.
"It looked like he made the lead within a few jumps and once he made the lead I wasn't worried because he's not the fastest horse from the gate," said Joseph. "So I felt pretty comfortable once he made the lead. By the quarter pole he had a little pressure but he's the kind of horse that is going to stay the six furlongs strongly. I felt he would finish strongly and he did."
A winner pf eight of 21 career starts, Wind of Change has seven wins and two seconds in 10 starts over wet tracks – numbers that gave Diaz some pre-race confidence. The 20-year-old native of Puerto Rico is the son of legendary Puerto Rican jockey Juan C. Diaz, who has captured the past 20 riding titles at Camarero Racetrack.
"I wasn't too worried about the sloppy track because I know this horse is good in the slop," Diaz said. "That gives you confidence when you see that form. He (Joseph) told me the horse has some early speed but he isn't always quick away from the gate. But he got into stride easily and made the lead on his own. He stayed strong the whole race."
Sent off at 2-1 in the field of six, Wind of Change had few anxious moments, tripping the timer at :22.34 for the opening quarter and :45.14 to the half. Jersey-bred Golden Brown rallied for second, three-quarters of a length ahead of Always Sunshine.
Joseph tried Wind of Change at six furlongs for his first start in his care, with the second-place finish in an optional $62,000 claimer at Gulfstream Park on April 24 serving as more proof that the distance was more the horse's strength. He was beaten just three-quarters of a length that day – and had been 0-for-4 at six furlongs until this victory.
The off going proved to be an added advantage for a horse that relishes a wet track.
"You always want a fast track but if a horse can handle an off track the way this one does you don't worry about it as much," said Joseph, who is stabled at Monmouth Park for the first time. "I'm just thankful the horse showed up. He has been training like a really good horse. He's a deserving stakes winner.
"We're off to a good start at Monmouth. Fingers crossed it will continue."