Wide Open Trainers' Race Looms as Monmouth Park Gears Up For Opener On Friday, July 3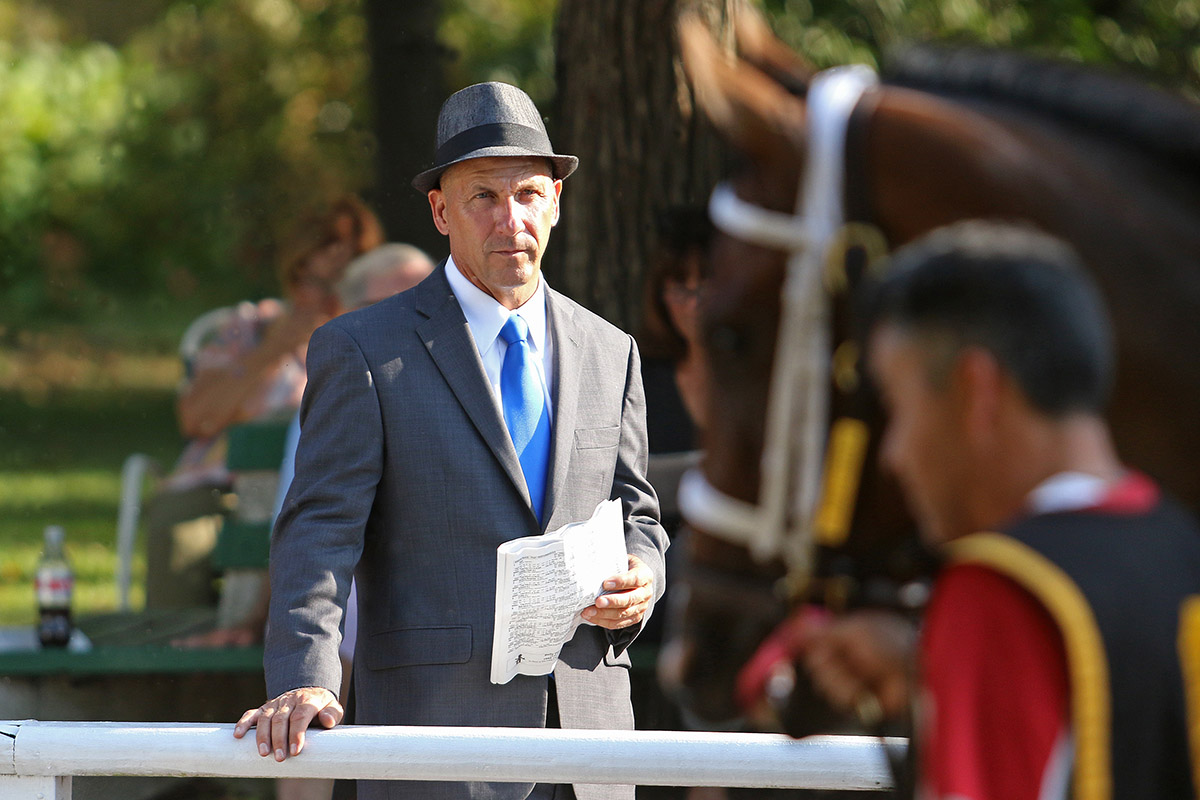 Kelly Breen would normally embrace the role as the early favorite for what appears to be a wide-open trainers' race when Monmouth Park launches its 75th season of live racing on Friday, July 3.
But this year has been anything but normal.
Breen, who owns Monmouth Park training titles from 2005 and 2006, is the leading returning trainer from a year ago in terms of wins with 36. But the Covid-19 virus has changed everything about the sport, forcing Monmouth Park into a condensed 37-day meet.
"I don't have the number of runners right know to think about being leading trainer," Breen said. "When you have 40 horses and quite a few are 2-year-olds they're going to make minimal starts, especially over a shorter meet. Until I start claiming some horses I can't think about a title. We'll see how that goes."
Breen is one of six trainers stabled on the grounds who have a Monmouth Park training title to their credit, a list that includes Jane Cibelli, Tim Hills, Bruce Alexander, Dan Lopez and Ben Perkins, Jr.
If there's strength in numbers, veteran Michael Stidham should be a factor with 71 stalls, the most of any trainer.
Yet for all of his career success, Stidham has won just one training title – in 2016 at Fair Grounds.
"Generally we don't run the type of operation that goes for a training title because we don't do a lot of claiming," Stidham said. "We tend to get well-bred young horses that we're trying to develop. That's usually not the formula for a leading trainer.
"Having said that, we did win the title in 2016 at the Fair Grounds. You have to see how things develop and whether the barn gets rolling quickly in a shorter meet. It just kind of happened at the Fair Grounds that year as a byproduct of winning."
With 25 winners a year ago – from just 81 starts – Jose Delgado is the second-leading returning trainer from Monmouth Park's 2019 meet. With a claiming stable and a high percentage of success he looms as a factor as well.
"I don't know. So much depends on luck," said Delgado. "I think I've got the right horses to make a run for the title. The thing about being leading trainer is you have to have the right horses for that meet and you have to have a lot of horses. I only have 25.
"But it is a shorter meet and if they're ready to go from the beginning you have a chance. I'm definitely going to give it a shot."
Delgado, 41, said it would especially significant for him personally to win his first training title at Monmouth Park.
"It would mean a lot to me because I couldn't do it as a jockey," he said. "I would have loved to have won a riding title as a jockey. Now I have another chance to do it as a trainer."
Pat McBurney, coming off a successful 2019, should be in contention as well, along with Cibelli, Gregg Sacco, Kent Sweezey and Mike Dini, all of whom are well-represented in the Monmouth Park backside.
With 35 horses stabled at Monmouth, after winning 10 races from just 19 starts a year ago, Jonathan Thomas said "numerically, this is the biggest stable we've ever had in any one place."
But he doesn't expect to be in contention for leading trainer because of the makeup of his stable, with up to 25 of his 2-year-olds calling Monmouth Park home this summer.
"We're top heavy with 2-year-olds, the majority of which we'd like to get started here," he said. "We've found it to be a great place for young horses. Maybe if the meet were longer would could be a factor. At this juncture we're more focused on individually starting a campaign for a horse and seeing where that takes us."
Monmouth Park's semi-sesquicentennial season will feature live racing from Friday, July 3, through Sunday, Sept. 27. Post time on Fridays will be 5 p.m. (except for Sept. 4, which will have a 12:50 post), while Saturdays and Sundays will start at 12:50 p.m. The exception to that will be a noon first post on Saturday, July 18, when the $1 million TVG.com Haskell Stakes headlines a stakes-filled program.