White Abarrio Looking To Make A Statement In Saturday's $1 Million TVG.com Haskell Stakes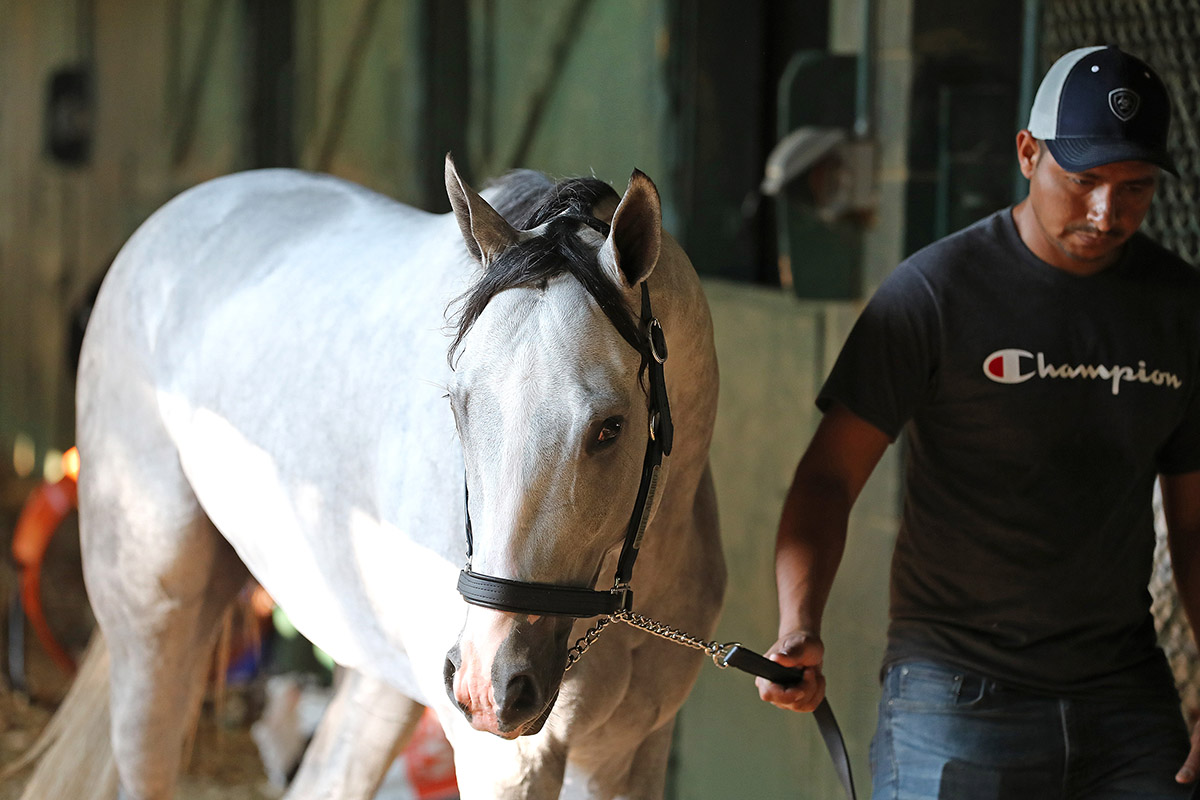 Florida Derby winner White Abarrio, named for his stunning white coat color, made a striking appearance as he galloped 1¼ miles with a purpose around the Monmouth Park oval on at 6:45 a.m. Thursday in preparation for Saturday's Grade 1, $1 million TVG.com Haskell Stakes.
"This horse is all business. We're seeing all good signs and all the right signs from him," said Washonn Rochester, the assistant to trainer Saffie Joseph, Jr. "He's settled in comfortably since getting here on Tuesday from Gulfstream Park. He's settled in good."
White Abarrio finished 16th in the Kentucky Derby after his top-level score in the Florida Derby and comes into the 55th edition of the Haskell, which will be contested nine furlongs by a field of eight, after missing by one length in the Grade 3 Ohio Derby in his last start on June 25.
With three different winners of this year's Triple Crown and not a single horse yet stamping himself as the leader of the 3-year-old division, combined with what is known as the start of the  "second season" for sophomore runners, White Abarrio's connections know that the Haskell presents an excellent opportunity to separate himself from the rest of the herd.
"This is a very big race for him and the Haskell is a prestigious race. It is a really important race. It would be a feather in his cap if he wins," said Rochester, who has worked with Joseph for six years. "It will show us and everyone where he is at this stage and in his class, and if he is going on to the next level."
The Haskell is a "Win and You're In" race for the $6 million Longines Breeders' Cup Classic at Keeneland on Nov. 5, with the Haskell winner receiving an all-fees paid, guaranteed spot in the Classic starting gate.
Joel Rosario, last year's Eclipse Award-winning jockey, will be aboard White Abarrio for the first time when the son of Race Day takes on fellow Grade 1 winners Cyberknife, Jack Christopher, and Taiba in a field loaded with speed that includes Benevengo, Howling Time, King of Hollywood and One Time Willard.
"This horse can go to the lead or sit off the pace. He's versatile and Joel is a very good and very experienced rider," Rochester said. "The mile-and-an-eighth distance is his wheelhouse. He likes it. We're looking forward to the race.
Joseph is due to arrive at Monmouth late Thursday or Friday morning and then will decide the colt's plans for Friday. White Abarrio is the colorbearer for C2 Racing and La Milagrosa Stable and brothers Clint and Mark Cornett of C2 Racing are expected to be on hand on Saturday.
***********************************************************************
Eclipse Award-winning trainer Dale Romans will send out Howling Time and knows this is the time for the colt to shine. What better time could there be than on the biggest stage under the brightest lights?
"This is a statement race," he said. "We could have gone in a lot of other directions, and taken a lot easier path, but the Haskell is the Haskell, and we want to play with the big boys.
"There are four Grade 1 winners coming together here and a couple of up-and-comers, so it is an important race with the whole division so wide open. I think it's a solid division. I haven't seen a superstar yet, but I think it's a solid division. It seems to me there are a lot of horses who don't want to go the Classic distances, but we'll see.
"We've got two more big time races for 3-year-olds (The Runhappy Travers and the Pennsylvania Derby). Let it sort itself out and then see who can compete with the older horses. This is a great opportunity for him (Howling Time) to step up and move forward and put himself in contention. It's break-through time."
Albaugh Family Stables' Howling Time is by Not This Time, who is out of the graded stakes winning, track record-setting sprinter Miss Macy Sue. Romans considers Not this Time the best horse he ever trained.
Howling Time is out of Werewolf — hence his name — and in his last effort in the1 1/16 miles Grade 3 Matt Winn Stakes he set every fraction before fellow Haskell contender Cyberknife caught him at the wire and just got his nose down.
Romans thinks that experience can only benefit his charge.
"That last race was gutsy. He impressed me. They went nose to nose for a quarter mile. That was his best race he's ever run. I'm not so sure he really lost. That was a good performance." said Romans. "He's on the ascent. He's getting better all the time. If he brings his A game and steps up a little bit, he'll be in the thick of it."
Howling Time galloped 1½ miles on Thursday morning and on Friday will school at the gate and in the paddock.
*********************************************************************
King of Hollywood, who is co-owned and trained by Monmouth Park training mainstay Gregg Sacco, will have home track advantage when he's led over from his stall on Saturday.
"This is a major event. My family has been racing here since 1946. We'll see what happens. We're glad to participate with a horse we think has a chance of picking up a piece," said Sacco, a third generation New Jersey horseman whose son, Will, is carrying on the family tradition as his assistant.
Sacco said that when the son of Palace Malice last raced here in the TVG.com Pegasus Stakes, which is the last local Haskell prep race, he hoped it would be a springboard to the big event. The colt finished last, but he had a legitimate excuse.
"He came out of the race with both eyes closed shut. We treated him for five days. It's was pretty serious," said Sacco, who saddle Basso to a fifth-place finish in last year's Haskell. "Then we didn't have anything scheduled. But we trained for this, if the race was to our liking.
"This is a dynamite race. It's packed with speed. We're going to take back and see the field, and when the running starts see if we can grab a share."
***********************************************************************
Zedan Racing Stable's Grade 1-winning Taiba galloped 1¼ miles on Thursday under the supervision of Jimmy Barnes, the assistant to Hall of Fame trainer and Haskell record holder Bob Baffert, who is seeking his 10th victory in the race.
Arkansas Derby winner Cyberknife galloped one mile and is set to school in the paddock and gallop again on Friday.
Editor's note: This story was written by Lynne Snierson of the Monmouth Park publicity staff.