Wet Your Whistle Rolls To Impressive Victory In Sunday's Get Serious Stakes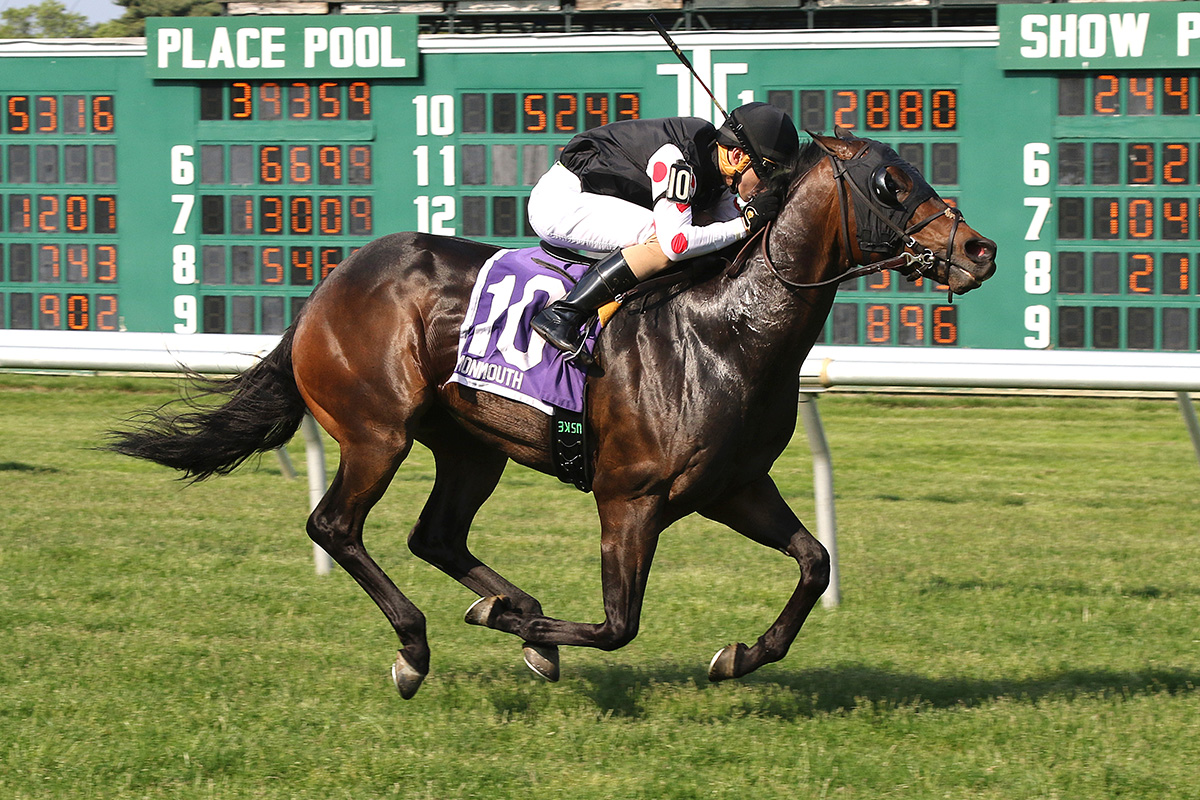 Wet Your Whistle, able to draw in off the also eligible list, staged a four-wide rally around the final turn and then powered his way to a 3¼-length victory in the first running of the Get Serious Stakes at Monmouth Park on Sunday.
Trained by Michael Trombetta and ridden by Alex Cintron, Wet Your Whistle scored impressively in his first try in stakes company, covering the 5½ furlongs in 1:02.74 over a turf course listed as "firm."
Nice Tune, the longest shot in the field of nine at 93-1, rallied for second, one length ahead of Rocket Heat.
The top two finishers needed a pair of pre-race scratches to make it into the race off the also-eligible list.
Sent off at 6-1, Wet Your Whistle improved to 2-for-2 in 2019, both in grass sprints, and won for the fourth time in 10 career starts. The 4-year-old gelded son of Stroll-Winlocs Glory Days by Belong To Me is owned by Bloomfield Farm.
Trombetta stopped on Wet Your Whistle after the horse turned in a dazzling victory in allowance company at Woodbine on Dec. 16. His first race back this year was a three-length romp at Laurel on April 25.
"His last start at Woodbine was brilliant. Really unbelievable," Trombetta said of that 8¼-length score. "It took me a while to figure him out. We kept getting rained off the turf, so we went long, we went short, we tried him back on the grass.
"We gave him a little break over the winter and he has come back fighting. This was a big test for him, no question. I was very happy to see him run so well."
Wet Your Whistle settled into mid-pack as Pool Winner, Fixed Point Rocket Heat waged a front-end duel, with even-money favorite Vision Perfect sitting off those three in a perfect stalking position.
But Vision Perfect never fired, with Cintron moving Wet Your Whistle four-wide on the final turn. He mowed down frontrunner Rocket Heat, who saw the quick early fractions take their toll.
"He broke well, but I was behind Rocket Heat by two or three lengths at the start and he kind of ran away from me, so I just let my horse get comfortable," said Cintron. "At the five-sixteenths I asked him to go and he just exploded. He's got a lot of talent. He's still young mentally. But he is starting to put it all together.
"I rode this horse in his first career start and he showed a lot of potential then. Mentally he had to catch up to his talent. It took him a while to do that. But you can see what he is capable of doing."
Monmouth Park resumes live racing on Saturday, May 25, with the first bundled stakes day of the season and the wildly-popular Jersey Shore Food Truck Festival starting a three-day run.
Saturday's card features the Grade 2 Monmouth Stakes, the Grade 3 Salvator Mile, The Boiling Springs Stakes and the John J. Reilly Handicap.
The Jersey Shore Food Truck Festival features 42 trucks offering a wide variety of culinary options.
First race post time on Saturday is 12:50 p.m.