War Treaty Looking To Carry His Speed In Sunday's Jersey Derby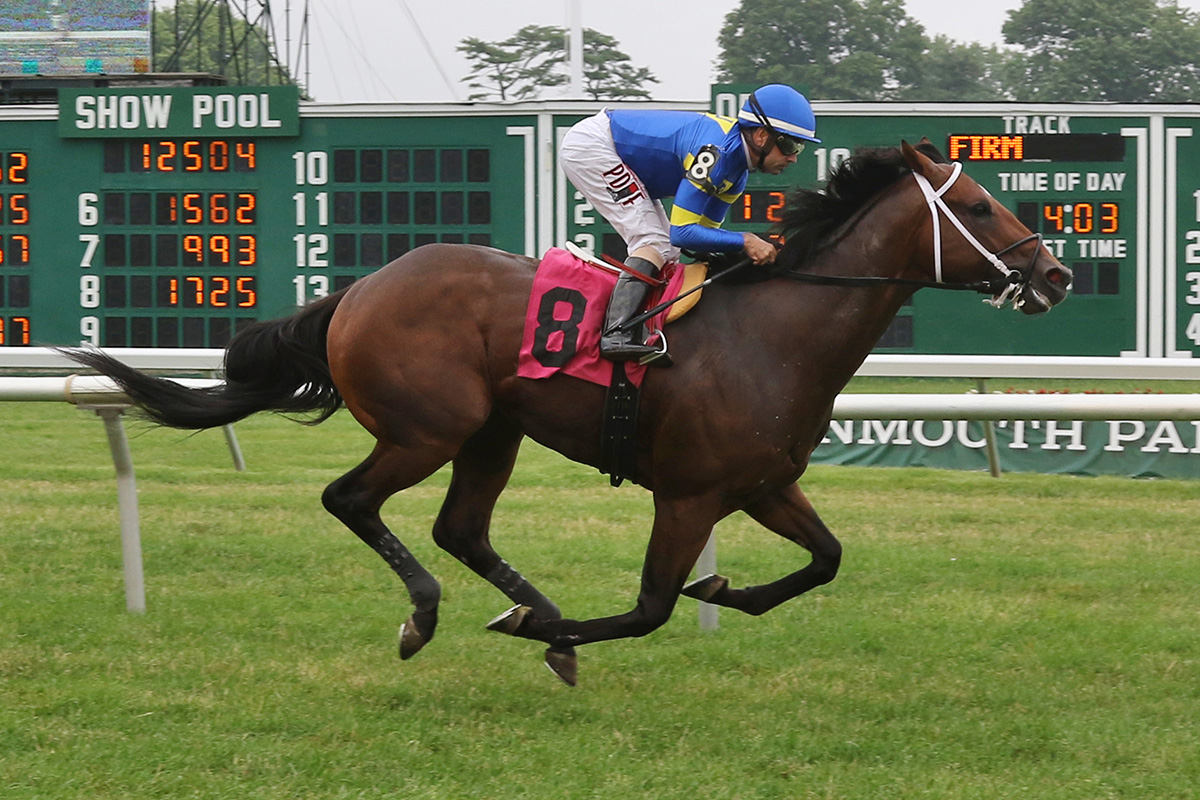 With a limited budget to work with at the April sale at Keeneland for horses of racing age, Louis Linder, Jr. knew he had to be selective. The veteran trainer had sights set on one horse – a 3-year-old named War Treaty – but wasn't sure if the former $550,000 yearling would be in his price range.
He was – just barely.
"My budget was right around $75,000 to $80,000 and he went for $75,000," said Linder.
Four months later, Linder is hoping War Treaty will pay even bigger dividends than he already has by becoming a stakes winner, with the colt pointed to Sunday's 76th edition of the Jersey Derby at Monmouth Park, the feature race on a 12-race card.
"I've already gotten more out of him than I expected to," said Linder, who has won two races and had a second in a stakes race in the four starts he has had War Treaty. "I always thought there was some upside to him and it has worked out for us. I probably paid a lot for a horse who broke his maiden for $30,000 but I thought he had enough potential and there were enough opportunities out there for him to give me a reasonable out for spending that kind of money. That was my thought process.
"I couldn't be happier the way it has turned out. He seems to be improving with maturity and he's moving forward and doing very well right now."
Linder, who began training in 1977, concedes this will be the toughest test yet for the son of Scat Daddy-Revel in the Win by Red Bullet who is owned by Bran Jam Stable and David W. Clark.
The mile and a sixteenth Jersey Derby, which is contested on the turf, features Current, a $725,000 yearling trained by Todd Pletcher; Standard Deviation, a $450,000 yearling purchase trained by Chad Brown who won the Tale of the Cat Stakes at Monmouth Park on June 1, and the Graham Motion-trained Inclusive in the seven-horse field.
But War Treaty looks to be the controlling speed and owns three wins on the turf and two at a mile and a sixteenth. Paco Lopez has the mount.
"There are some tough horses in this race," said Linder. "He's going to have to dictate things early on and on his terms. If he can do that he will be really tough."
War Treaty has won two grass allowances races at a mile and a sixteenth for Linder, just missing in his last start in the Frisk Me Now Stakes at Monmouth on July 27 when the talented Tracksmith caught him at the wire.
"If you watch that race it looked like Tracksmith was going to roll by as he pleased," said Linder. "But my horse does not like to get passed and he will fight. He's very game.
"He wants the lead. That's when he is at his best. We try to take some of that aggressiveness out of him by breezing him early and making him finish late but the lead is where he wants to be."
With a 3-3-0 record from nine career starts Linder says War Treaty deserves another chance at getting his first stakes victory.
"He has already exceeded what I thought I would get from him at this point," said Linder.