Waist Deep Scores Front-Running 2 3/4-Length Victory In Sunday's $100,000 Sapling Stakes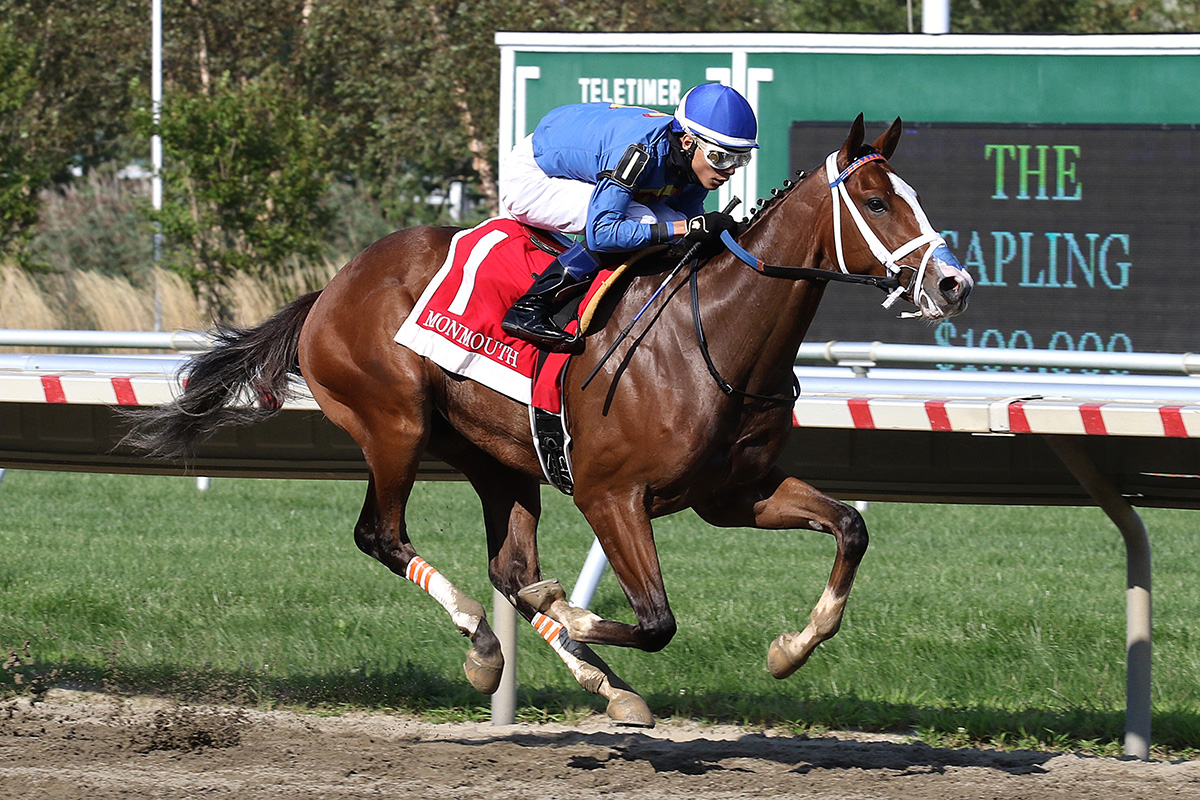 Trainer Anthony Farrior was convinced that Waist Deep was more talented than his trouble-filled fourth-place finish in his previous start in the Juvenile Stakes at Ellis Park.
That's why he wanted and needed to see one more race from his speedy gelding, just to be sure.
Supplemented to the 86th edition of the Sapling Stakes for $4,000, Waist Deep made that investment – and Farrior's belief in him – pay off when the son of Oxbow scored a front-running 2¾-length victory in Sunday's $100,000 feature race for 2-year-olds at Monmouth Park.
Trying two turns for the first time, Waist Deep never faltered on the front end of the one-mile test, cutting reasonable fractions of :24.66, :46.68 and 1:12.83. He had enough in reserve for jockey Jorge Vargas, Jr. to easily hold off Pickin' Time. It was another 5¾ lengths back in third to Tapwood.
The winning time for the eight furlongs was 1:39.54.
"In his last start he cut his leg during shipping (from Laurel to Kentucky) and we really had to work on it before the race," said Farrior. "He really wasn't comfortable the whole week and then he got in trouble in the race. We always thought he was a nice horse so we wanted to give him another try in stakes company."
Sent off at 2-1 in the field of six, Waist Deep scored his second victory in four career starts. Vargas said the horse dictated the race to him with the way he broke and went right to the lead.
"I really didn't need to be in front. But these babies, they don't know when they're going two turns for the first time. I just wanted to put him in the race early but he took off and took me the whole way," said Vargas.
Owned by Super C Racing Inc. and John Huber, Waist Deep had flashed speed in his first two starts, fading to third in his debut before winning by eight lengths in a Maiden Special Weight race at Delaware Park on July 27. But those were sprints.
"After his second start we saw what he was showing us in the morning so we felt he had stakes ability," said Farrior. "In the mornings we never really go to the bottom of him. Every time some other horse would come up to him he would want to go on. So I wasn't worried about this being his first time around two turns. He's a nice horse."
The Kentucky-bred Waist Deep will now likely get a break, Farrior said.
"We'll probably give him the rest of the winter off, turn him out and let him grow, because he has a lot of growing to do," he said.