Visit To Monmouth Park By Trainer Michael Stidham's 86-Year-Old Mom Stirs Memories Of Family's Long Ties To The Track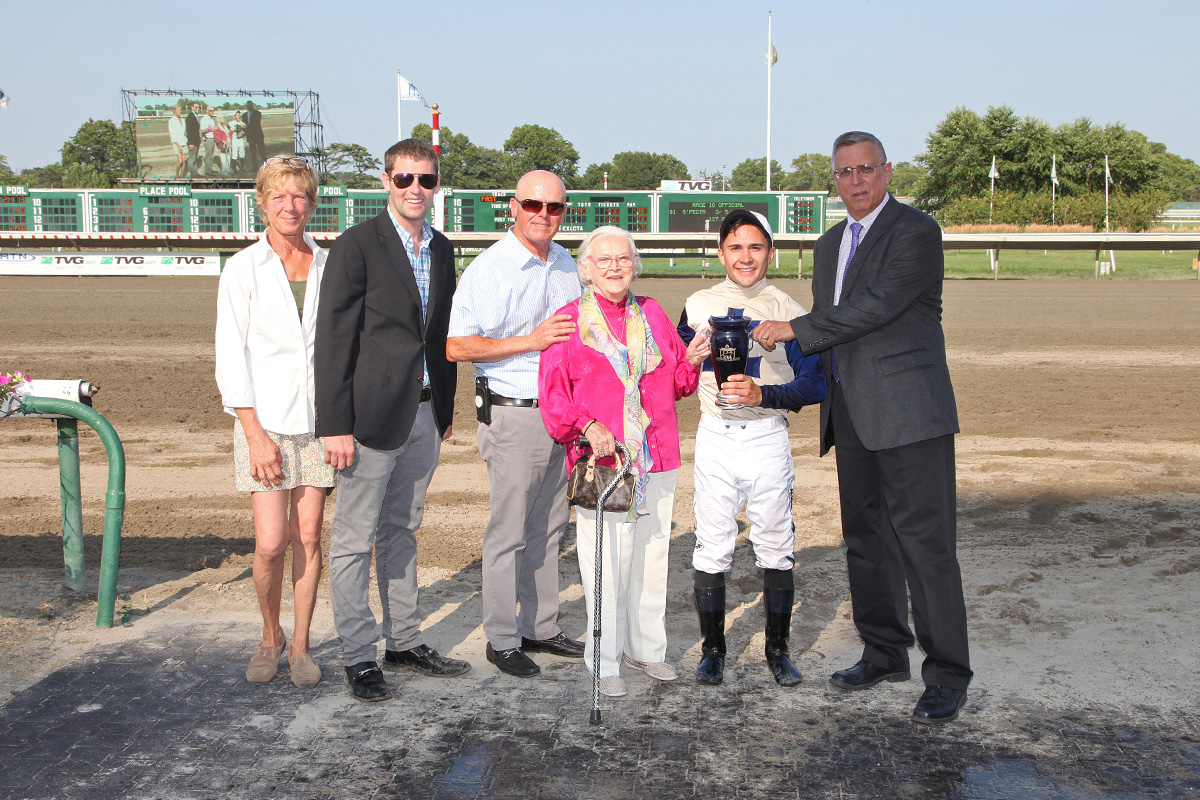 As important as it was to trainer Michael Stidham to get black type for his unbeaten 3-year-old filly Tasting the Stars when she captured the Just Jenda Stakes at Monmouth Park on July 28 it was the winner's circle gathering that held even more significance for him.
Stidham's 86-year-old mother Anita was there to share the moment – returning for the first time in quite a while to the track where she met Stidham's late father, George, a Monmouth Park jockey in the 1950s.
"It was special for her to be back at Monmouth Park and in the winner's circle," said Stidham, who sends out the promising filly Woven in the fifth race when racing resumes at Monmouth Park on Friday. "It was really a touching moment for me. I was so happy to see her reaction."
Because she lives in California now, Stidham says his mother rarely makes it back to Monmouth Park. He said he couldn't remember the last time she'd returned to the place where she and his father first met. So winning the feature race that day added to what was already a moving personal day.
"She was born and raised in Asbury Park. This is where she grew up," said Stidham, who was born in nearby Neptune. "Just seeing her reaction to everything at Monmouth Park again was great. She was in the paddock and she remembered that was where she and my dad first met. She remembered all of it. It was really nice to see. She was delighted."
Stidham says his memories of his dad as a rider are hazy, since he was too young to remember seeing him race. But he still has vivid recollections of his father's friendship with Hall of Fame jockey Bill Hartack. George Stidham passed away in 2005.
"Bill was like an uncle, even though he wasn't a true uncle," said Stidham, who followed his father by becoming a trainer in 1979. "We used to call him uncle Bill because he was around the family so much and spent so much time with us. Hartack and my dad were best friends as riders. Then my dad became a part-time agent and business manager for Hartack when he got real successful."
Stidham's mother is a treasure trove of those old stories, he said.
"We had dinner in Asbury Park when she was here and that brought back memories for her too," Stidham. "I really can't remember the last time she was back at Monmouth Park. There's not a real connection any more other than me being here the past couple of summers since most of our family members have moved away or passed away.
"You could tell she was really enjoying it. She loved it. It brought back a lot of good memories for all of us. It's why Monmouth Park will always have a personal connection for me."