Veteran Rider Carlos Montalvo Off To Good Start After Moving Tack From Gulfstream To Monmouth Park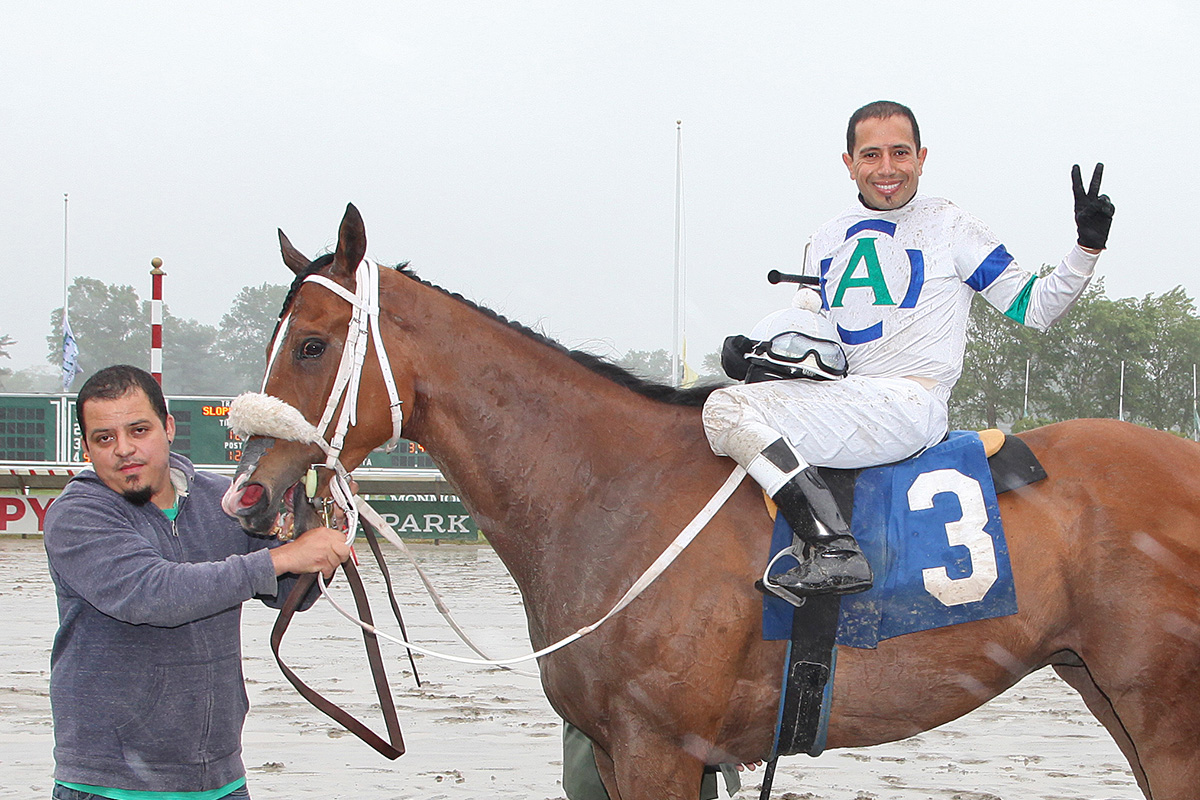 Veteran jockey Carlos Montalvo has come north to Monmouth Park for the 2021 summer meet looking to get his career back on track after struggling in south Florida in both 2019 and 2020.
"One of the mistakes I have made is that I moved around too much when I was younger," said Montalvo. "So far I really like it here, and this could be my new home."
Based on the early returns Montalvo's move has paid off. With 15 mounts after the first four days of racing, Montalvo shows a 2-3-5 line, with the two victories equaling his total at Gulfstream from 91 mounts in the winter.
"I was first invited 12 years ago to ride at Monmouth Park. Now that I am here, I am in love with the area and the different people here," he said. "I am excited to race here, especially on the grass where trainers think I race better."
Montalvo, who has ridden 1,203 winners in a career that began in 1999 in the United States, has set a goal this summer of winning the riding title, which is something he's never done. He is also looking forward to getting an opportunity to ride in the graded stakes Monmouth Park offers, most notably the $1 million TVG.com Haskell Stakes on July 17.
"I just want to win races, and for anybody, too," said Montalvo, whose lone graded stakes win came aboard Mongolian Saturday in the Grade 3 Woodford Stakes in 2016. "I look forward to the opportunity of working with all the people here, especially people like (trainers) Jorge Duarte, Gregg Sacco and Todd Pletcher."
Montalvo is a third generation jockey from Mexico, where he first started riding in 1996. He then shifted his tack to Chicago, riding at Hawthorne and Arlington Park. From there he moved to New York, racing at Aqueduct Race Track, before venturing to Turfway Park in Florence, Ky.
For the past four years Montalvo has been racing at Gulfstream Park, struggling to gain his footing in a competitive jockey colony.
"It's tough to win when you are riding all long shots. When you ride the eighth or ninth best horse, it's tough to win races," said Doug Hatten, Montalvo's agent.
Montalvo attributes his limited success at Gulfstream the past two years to the lack of opportunities to ride top horses.
"Unfortunately, I did not have much support in south Florida, even when I got there four years ago (and) I did really well, when I won a stakes race there," Montalvo said. "It was frustrating when I put in the work with horses before the race and they decided to not ride me, and I can't get rolling."
Montalvo is not taking anything for granted this summer, waking up at 3:30 a.m. on his off days to work horses for as many trainers as he can. Hatten says his client is willing to ride for any stable and trainer.
"He just wants to win races, and for everybody, from little guys to big guys," he said.