Vedareo, Half-Sister To Champion Vequist, Romps By Six Lengths In Sunday's $200,000 Sorority Stakes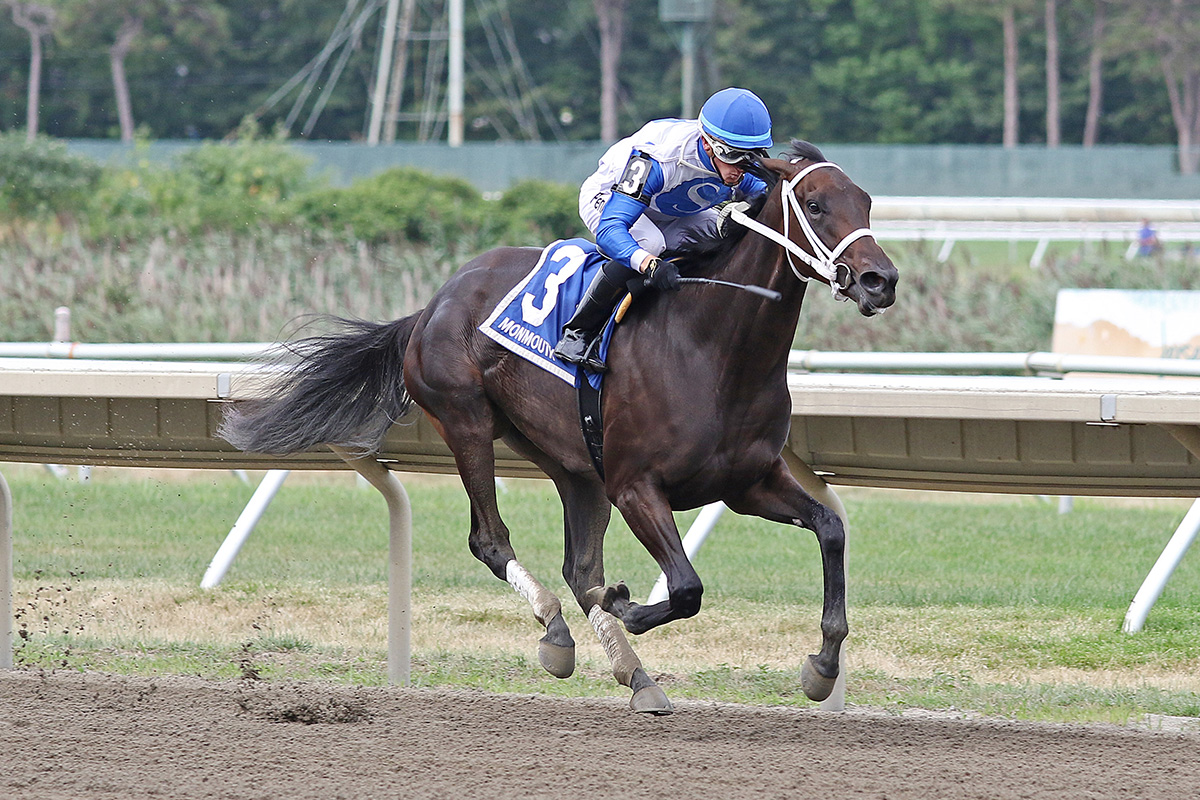 It's going to take a few more dazzling performances like Sunday's romp in the Sorority Stakes for Vedareo to come close to the accomplishments of her champion half-sister, but the 2-year-old filly appears to be on her way.
Sent to the front early by jockey Frankie Pennington in her first start around two turns, Vedareo toyed with her six rivals on the way to a six-length romp in the $200,000 Sorority Stakes for 2-year-old fillies at Monmouth Park.
Vedareo is a half-sister to Vequist, who won the 2020 Breeders' Cup Juvenile Filly race, one of two Grade 1 wins her brief five-race career.
"Physically, she looks amazingly like (Vequist)," said Butch Reid, the trainer of both fillies. "She even caught me by surprise today in the paddock. She looked bigger in the stall than she has before. She is really growing nicely and handling her weight nicely."
After winning her career debut at Parx on June 14, the daughter of Dare Devil-Vero Amore by Mineshaft was fifth in the Grade 3 Schuylerville on July 14. But Reid said too many factors worked against her that day.
"After that debacle in Saratoga I couldn't be happier," said Reid, who got his start as a trainer at Monmouth Park in 1982. "She got slammed that race, didn't get off great and didn't handle it at all. That was the first day of the Saratoga meet and the track was very deep that day. That's never going to be her favorite surface.
"Today it looked like she rated so I'm hoping the more two turn races we get in her the more we'll get her to relax. My biggest concern was the horse next to her (Riding Pretty) stumbled badly (at the start), but it didn't affect her."
Let go at 9-1, Vedareo was able to carve out moderate fractions with only token pressure, gliding to the first quarter in :23.59, to the half in :47.16 and to three quarters in 1:11.82. Part of that was due to 1-2 favorite Devious Dame, who came in 2-for-2, failing to fire at all in a sixth-place finish.
The winning time was 1:38.43.
"She has some big shoes to fill but she is doing a phenomenal job at this stage of her career and she is heading in the right way toward some good things," said Pennington. "I wanted to be on the lead or at least be clear because when she sees other horses she can be very strong. So the thing for me was to get the lead or sit somewhere clear where she could relax. First time going long today she was a little keen early but she relaxed on the backside and finished strong.
"She just keeps getting better. Even breezing her in the morning you can see the improvement and how much more aggressive she is. She keeps heading the right way. The way she's going she looks like she can do some special things. We'll see. First time going long you never know, but I knew if she was anything like her sister she would handle it."
Alma Rose rallied for second, 2¾ lengths ahead of Outofnothingatall.
Vedareo, a Swilcan Stable homebred, paid $20.60 to win.
"We'll see where she fits now," said Reid. "I never looked for anything beyond this race. We wanted to make sure she was good after the Saratoga race, so we took our time and looked at the calendar and this race fit perfectly for her."