Up-And-Coming Jockey Isaac Castillo Hoping For The Ride Of His Life During Saturday's TVG.com Haskell Stakes Card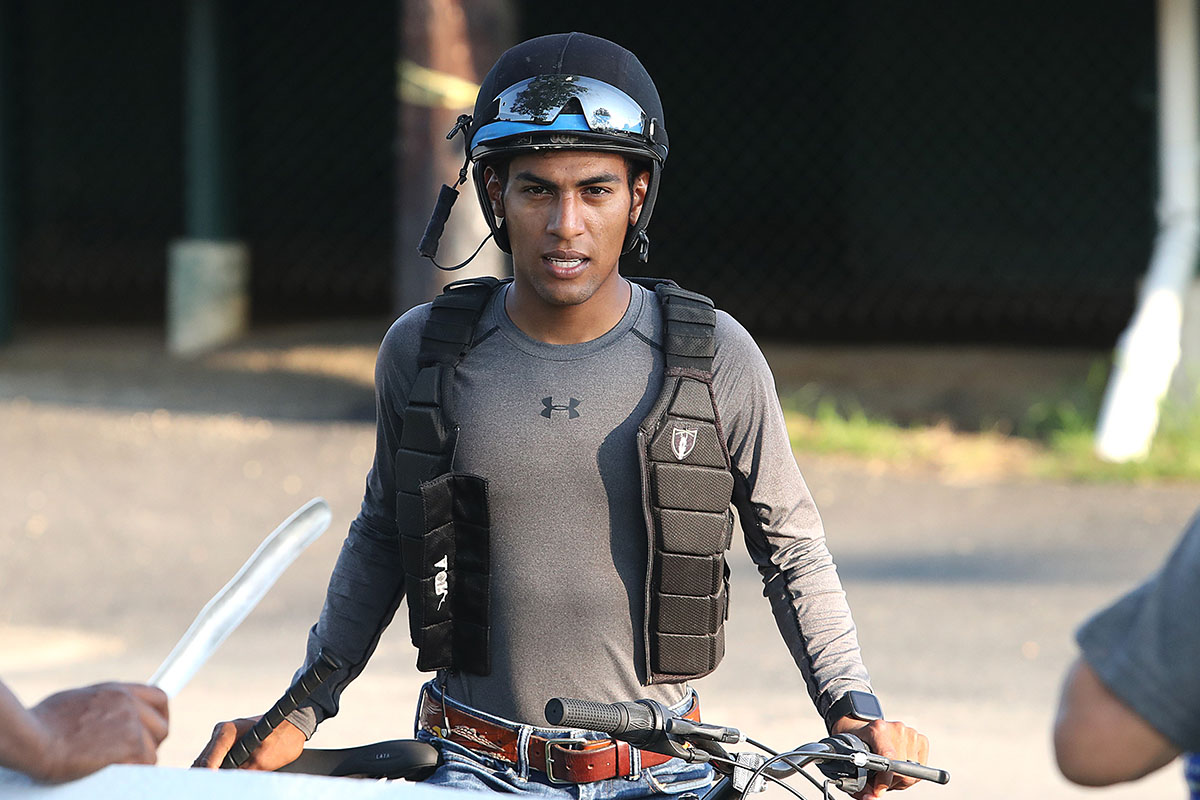 Though Basso is listed at 30-1 on the morning line for Saturday's TVG.com Haskell Stakes at Monmouth Park, making him the co-longest shot in the seven-horse field, jockey Isaac Castillo feels confident he can defy the odds.
Castillo's mount aboard the Gregg Sacco-trained Basso will wind up being his second in a Grade 1 race in his six-year career – the first coming aboard Oceans Map in the Grade 1 United Nations one race prior on the Haskell Stakes card. Oceans Map is also trained by Sacco.
"I am ecstatic about this opportunity for Isaac," said Castillo's agent, Dylan Fazio. "It's a big opportunity for him to continue to show himself."
The Grade 1 riding assignments are added milestones to what has been a breakout year for the 23-year-old Panamanian, who has already set personal bests in 2021 for mounts (369 entering the weekend), victories (57) and earnings (more than $1.2 million).
The past two years Castillo has been working tirelessly to establish himself at Monmouth, finishing eighth in wins during the 2020 meet. With 22 wins this summer he is currently third in the Monmouth Park rider standings behind co-leaders Paco Lopez and Jose Ferrer (28 wins apiece).
That groundwork of the past two years will have its biggest payoff yet on Saturday, with Castillo scheduled to ride in nine of the 14 races on the Haskell Stakes program – and both Grade 1 races.
"I appreciate the opportunities from the trainers. As I start to ride more, more trainers are starting to notice," said Castillo. "I am starting to do better, and I feel more confident with every ride."
While the Haskell will mark the biggest race of Castillo's career (after the United Nations, of course), he is more appreciative of the opportunity than he is nervous about it. He fully understands the importance of being in his first $1 million race, especially since it comes on the heels of the $500,000 United Nations.
"It is unexplainable," said Castillo. "I am very grateful to have a good agent and I am very thankful to have the opportunities given to me from the trainers."
Castillo has ridden Sacco-trained horses with success in the past, but none have presented the opportunities that Kentucky-bred Basso will in the Haskell Stakes or that Oceans Map, another longshot, will in the United Nations. The Haskell also offers a "Win and You're In Classic Division" berth into the Breeders' Cup Classic to the winner.      Castillo said riding in the Haskell, even on a horse who is not given much of a shot, is something he finds himself anticipating even more than the first start of his career. Though this will start to fulfill one of his dreams of riding in prestigious, big-money races, he said any nervousness will disappear when the field enters the gate for the 54th edition of the Haskell.
Having a mount one race earlier in a Grade 1 will help calm any nerves as well.
"A win (in either race) would be unexplainable," said Castillo. "It will mean a lot to me and my family back in Panama, and they would be so proud of me, and at the big achievement."
Basso will be taking on the daunting challenge of facing all three Triple Crown runners-up in Mandaloun, Midnight Bourbon and Hot Rod Charlie, as well as the promising Todd Pletcher-trained Following Sea.
Castillo, meanwhile, will find himself in consecutive races against the likes of some of the sport's top riders, such as Florent Geroux, Flavien Prat and Joel Rosario.
"I am not intimidated by those in the field," said Castillo, a graduate of the Laffit Pincay Jockey School in his native Panama. "I am happy that I will be able to ride with these jockeys so I can keep improving and learn from some of them.
"The horses don't know their odds and they don't even know about the prize they can win, so I am very excited to get the opportunity to win as a longshot and I will do anything I can to finish first in these races."
By James Baldo
Monmouth Park publicity intern