Two-Day Surf & Turf Seafood Festival Starts Saturday, July 14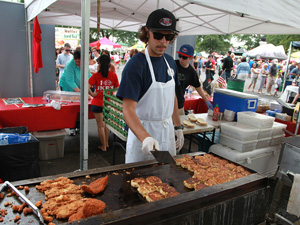 The two-day Surf & Turf Seafood Festival, sponsored by The Star-Ledger, gets underway on Saturday, July 14, and will serve as a tasty complement to Monmouth Park's 12-race card that day. 
The event, which will take place in the Festival area, showcases the delicacies from 18 different vendors and will include beer, wine and a seating set up. 
Food service starts at 11:30 a.m. and runs through the end of the live racing card. 
The eateries and vendors are: Chip Stix; Cold Stone Creamery; Cousins Maine Lobster; Dag's Dippers; Enzo's; Good Food = Good Mood; House of Cupcakes; Ike's Famous Crabcakes; Joe Smoke Bar-B-Que; Maddalena's Cheesecake; Scuba and the Beast; Sherri's Crab Cakes; Star of the Sea Seafood; Tacoholics; The Little Sicilian; The Tasty Trolley; Tony's Italian Sausage and Raw Bar and Wild Bill's Olde Fashioned Soda Pop Company.