Two Arnaud Delacour Fillies Head Field For Sunday's Just Jenda Stakes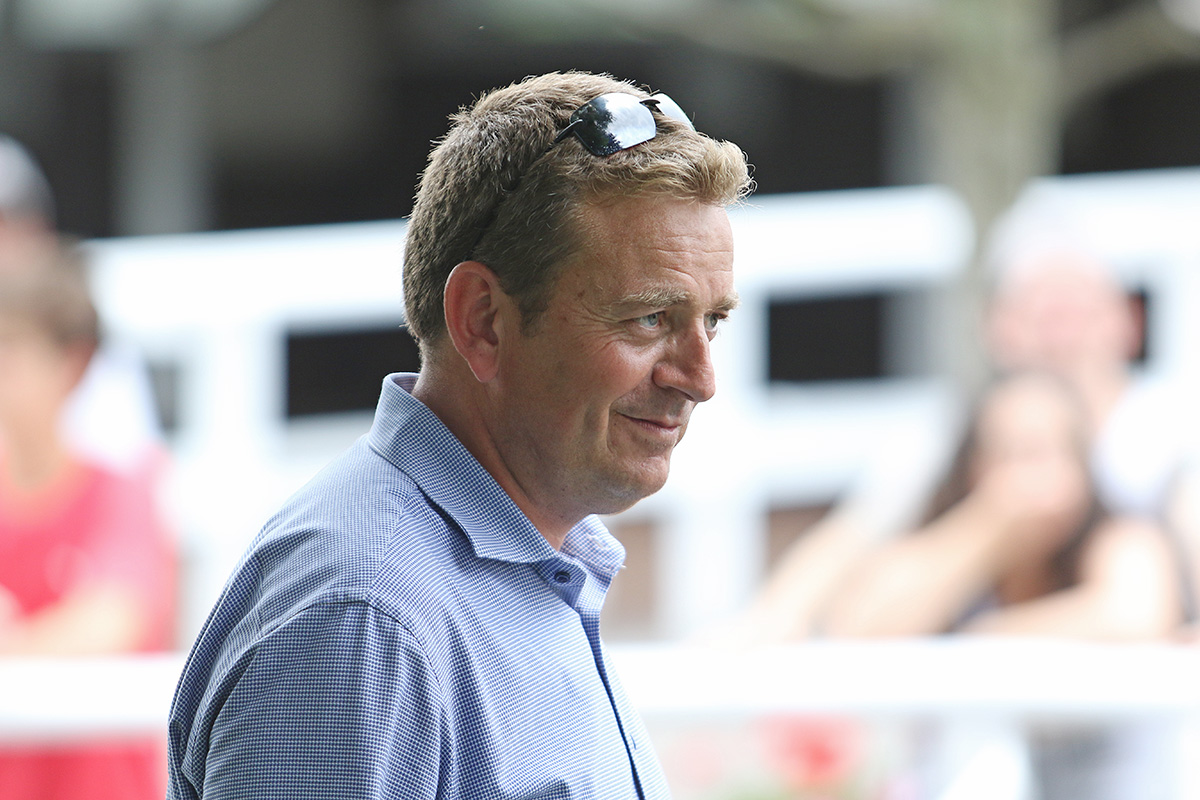 As much as trainer Arnaud Delacour tries to resist having two of his horses in the same race he also knows that it's unavoidable at times.
Sunday's inaugural running of the Just Jenda Stakes at Monmouth Park is one of those times.
The combination of limited options this time of year for 3-year-old fillies on the grass and the havoc Mother Nature has wreaked on turf racing in the Northeast prompted Delacour to enter both Ellyb and Ionic in the $75,000 feature for 3-year-old fillies at a mile on the turf, a race that headlines a 13-race card.
"I usually try not to have two in the same race, but with breeders looking for black type – and it's especially important for a female – and with fewer opportunities, sometimes you have to do it," said Delacour. "Plus the weather has been a factor with losing grass races this summer.
"I think it's the right spot for both of them, and it's a chance for both of them to get black type."
Ellyb, whom Delacour describes as "a small filly but a very consistent one," has been third in consecutive stakes at Monmouth Park already this meet, faltering late at a mile and a sixteenth on the grass in both the Open Mind Stakes and the Boiling Springs.
"She has tactical speed," Delacour said. "She likes a firm turf so I hope it's a firm turf on Sunday. I like the fact that we are cutting back in distance a bit. Her last two races were at a mile and a sixteenth and this being at a mile will help her, I believe. She is training very well so I like this spot for her."
Ellyb, a daughter of Pioneerof the Nile-Eversmile by Theatrical, cost owners Audley Farm Stable $360,000 as a weanling. She has had her share of success, with two wins and two thirds from six career starts, but has yet to have a breakthrough performance.
"I really want to get her a stakes win. I think she deserves one," said Delacour.
Ionic, a late-starting daughter of City Zip-Incredulous by Indian Ridge owned by Catherine M. Wills, has done little wrong since her career debut on March 31. In three starts, all on the grass, she has two wins and a second, missing by a nose in her second career start.
"She was a late bloomer," said Delacour. "As a 2-year-old she wasn't quite ready to race so we took our time with her. She really hasn't had a bad race since she started.
"I'm happy with this spot for her as well. She probably can go a little longer, but I'm happy enough with the mile for her."