Trucktoberfest To Feature 17 Food Trucks, Octoberfest Beers On Saturday At Monmouth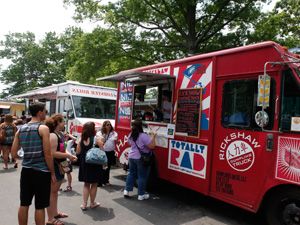 A total of 17 food trucks and a variety of Octoberfest beers will highlight Trucktoberfest on Saturday at Monmouth Park as a complement to a 12-race program on the penultimate day of the 2018 meeting. 
The event will take place in the Festival Area and will run from 11:30 a.m. to the end of live racing. 
The truck vendors scheduled to be in attendance are Carnivale Donut Bar; Cheezen; Citi Pie; Cousin's Maine Lobster; Dogs Gone Wild; El Lechon de Negron; Empanada Monster; Four Boys Concessions; Good Food = Good Mood; Mary Queen of Pork; Philly Fry Guy; Pompier Pierogi Flats; Red Hook Lobster Pound; Shore Goods Eats N Treats; Thai Food Addict; Tony's Italian Sausage and Your Gourmet Gallery. 
In addition, live music will be available "On the Green" for most of the day on Saturday as well, with Chris Morrisy performing from noon to 4 p.m. and the Larry Stevens Band Acoustic Duo performing from 4:30 p.m. to 7 p.m. 
The post-race entertainment includes wagering on college football and other sports in the Monmouth Park Sports Book by William Hill and the band Full Throttle at the Beer Garden at Blu Grotto.