Trainer Tom Albertrani Pointing Two Fillies To Saturday's Unbridled Essence Stakes at 1 1/2 Miles On The Turf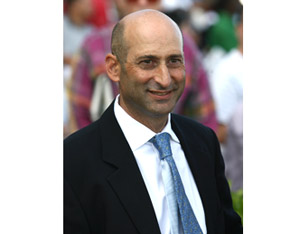 Monmouth Park's longest stakes race of the year can't come soon enough for trainer Tom Albertrani.
He's so eager to give the inaugural running of The Unbridled Essence Stakes at try that he will likely send two fillies postward for the mile and a half turf race that will serve as the Saturday feature: Beau Belle and Nonsensical, with the latter being a supplemental entry.
"Right now, I'd say both are going," said Albertrani. "Nonsensical is entered in a non-winners of two allowance going long at Saratoga on Thursday. But with the rain we're getting at Saratoga it's hard to say if they will stay on the grass Thursday. Even if they do stay on the grass I would rather run over a firm ground at Monmouth as opposed to a soft ground here.
"So I will probably take a shot and send her to Monmouth as well."
Both fillies, Albertrani said, have been yearning for more distance, though Beau Belle, despite her 1-for-15 lifetime record, is the more accomplished of the two.
After six seconds and three thirds in her first 14 career starts, Beau Belle finally found the winner's circle in her last start. Despite the absence of victories, the 4-year-old daughter of Giant's Cuaseway-Binya by Royal Solo has banked $171,565 in her career.
"It's always frustrating when they run a lot of seconds and you know they have talent," said Albertrani. "You hope there is more there. Maybe she got the breakthrough race she needed last time out. She's been thriving ever since that race.
"Hopefully we'll keep taking steps forward with her now."
Frankie Pennington will ride Beau Belle, who is owned by Mark T. Anderson. Like every other horse in the race, the distance remains the great unknown for Beau Belle.
"She has never been that far but she acts like she wants to get the distance," said Albertrani. "She's a half-sister to Sadler's Joy's mother. So on pedigree the distance shouldn't be a problem."
Nonsensical, a 3-year-old daughter of Street Sense-Dowager by A.P. Indy, is 1-for-6 lifetime, but will be making just her third start on the grass. She is owned by Godolphin LLC.
Joe Bravo has the mount.
"She's bred to go long," Albertrani said. "I can really see she wants to go further than what she has been running. She definitely wants to stretch out."
The Unbridled Essence Stakes, for fillies and mares three and up, carries a $75,000 purse.