Trainer Salvaggio Seeking First Career Stakes Win With Klayton's Kandy In Sunday's Incredible Revenge Stakes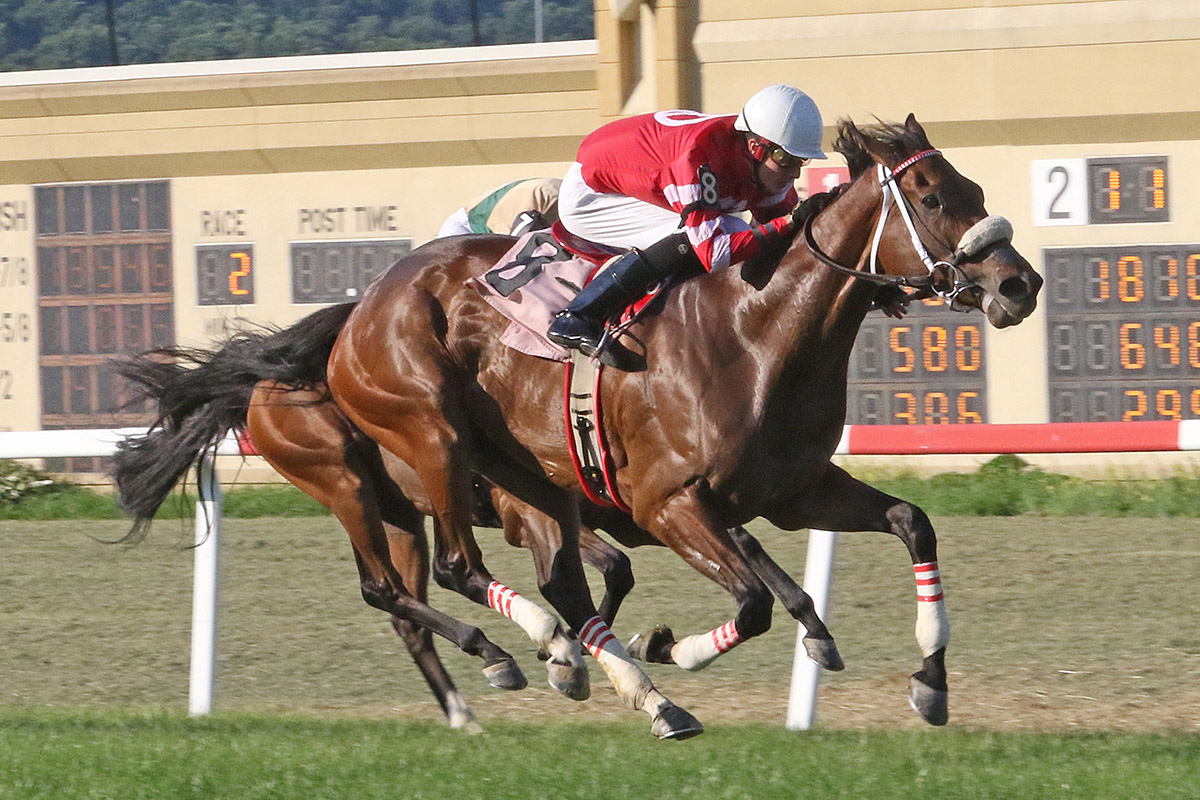 Mark Salvaggio understands exactly what he has never won a stakes race in 22 years as a trainer. He doesn't have that type of stock.
"I have cheaper horses – almost all claimers," said Salvaggio, who is Penn National based.
That could change in Sunday's $100,000 Incredible Revenge Stakes at Monmouth Park when the former jockey sends out Klayton's Kandy, a recent $25,000 claim, in the 5½-furlong turf sprint for fillies and mares, 3 and up.
It would be fitting if that were to happen at the Jersey Shore track, too: Salvaggio's last stakes win in a 24-year career as a rider came at Monmouth Park in the 2003 Restoration Stakes aboard a horse named Sky Soldier.
"It would mean a lot to me to finally win a stakes race. It would be really cool," said Salvaggio. "The owner (Jeffrey Parthemore) of Klayton's Kandy is all-in on the business. He loves it. So it would really be special to get him a stakes win with this filly."
A 4-year-old daughter of Twirling Candy-Ravionetta by Touch Gold, Klayton's Kandy was claimed for $25,000 on June 30 after winning an optional claimer at Penn National going a mile and a sixteenth on the grass.
Her career to this point has been a solid one: a 6-2-2 line from 17 career starts, with five of those wins coming on the turf.
"She looked like a hard-knocking horse. That's why we claimed her," said Salvaggio. "She was at the Fair Grounds, she raced in Texas and Oklahoma and at Delaware. The owner picks out the horses and then I look into them and do homework on them.
"She has done everything right since we got her. We had some options with her. I left it up to the owner and this is the race he wanted to try."
The Kentucky-bred Klayton's Kandy has won two of her three starts this year, one going long, the other at five furlongs. Salvaggio thinks she is better going long but she has shown she can handle a sprint as well.
"I think a mile or a mile and a sixteenth is her best distance," he said. "But she has run well sprinting or going long. She's doing well so we're going to take a shot here."
Because of his stock, Salvaggio rarely strays from Penn National, where he says "my horses fit the program." He did start Life on the Ledge at Monmouth On May 30, but the filly was seventh.
Penn National regular Tyler Conner will be in for the ride.
"She's is doing well. I hope this is the spot," said Salvaggio, who is having a solid year with 23 wins from 92 starters. "It would definitely me a lot to get that first stakes win as a trainer."