Trainer Rory Huston Will Be Well Represented During Sunday's New Jersey Thoroughbred Festival At Monmouth Park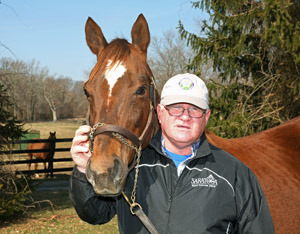 Trainer Rory Huston doesn't try to hide the feeling that his favorite day on the racing calendar is coming up on Sunday at Monmouth Park. 
That's when the track hosts the New Jersey Thoroughbred Festival – an entire card devoted to Jersey-breds – and it's a day Huston points to all year. 
"I love it. It's all Jersey-breds and that's pretty much all I have," said Huston, who also manages Overbrook Farm in nearby Colts Neck. "The last week or two I've cut back on starting horses so I can save them and point them to Sunday as much as I can. This is one of the highlights of the year for us." 
Huston will be represented in two of the three stakes races on the card, with the ultra-consistent Ebony Ball set to go in $60,000 Eleven North Handicap at six furlongs and the veteran Mello Groove going in the $60,000 New Jersey Breeders' Handicap, also at six furlongs. The $60,000 Charles Hesse III Handicap at a mile and a sixteenth for 3-year-olds and up is the other stakes race. 
Huston will be well represented throughout the 10-race card. 
"I don't want to be greedy. Hopefully we can win a few," he said. 
Ebony Ball, a 5-year-old daughter of Park Avenue Ball-Etna, is coming off an allowance victory at Monmouth Park on Aug. 5, giving her a 2-2-1 mark from six starts this year and 4-4-1 career record from 14 lifetime starts. 
"She's had a great year," said Huston. "She gives you everything she has every race, especially this year. We're quite happy with her. As she has gotten older she has gotten better." 
Mello Groove, a 6-year-old son of Stormello-Good and Groovy, is still looking to break through in the victory column after finishing third in two of his three starts this year, including the John J. Reilly Handicap. Mello Groove has banked $251,942 in his career. 
"He hasn't won yet but he's been close," said Huston. "He always seems to be flying at the end. His best distance is probably 6½ or seven furlongs so we'll see if he can get it done at six." 
Huston, who has 28 horses at the track and four more 2-year-olds at Overbrook Farm, is on the verge of the best year of his career with 11 wins and $304,767 in earnings. That's on pace to surpass last year's career-best totals of 14 wins and $368,696 in earnings. 
And it's almost all done with Jersey-breds from 225-acre Overbrook Farm. 
"Most of the horses I have I've foaled, so it means a little more when you oversee them from start to finish," Huston said. "I foaled Irish War Cary (the 2017 New Jersey Thoroughbred of the Year). The mare, Irish Sovereign, is there now with a suckling by (2016 Haskell Invitational winner) Exaggerator. So it's always meaningful to see them do well when you're that involved."