Trainer Robert Falcone Jr. Looking To Add To Fast Monmouth Park Start With Two Entered On Friday's Eight-Race Card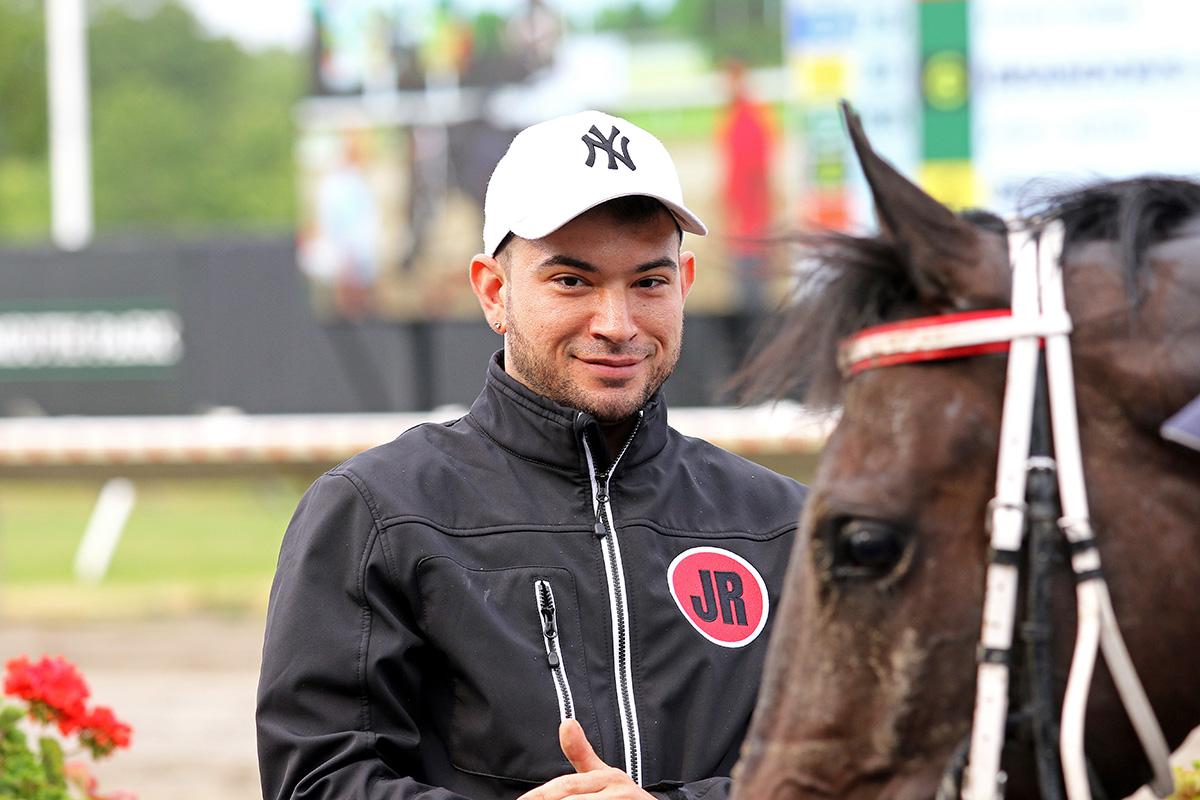 Robert Falcone Jr. is realistic about his chances of making a serious run for the Monmouth Park training title. It won't happen this year, he concedes — even with the 29-year-old well on his way shattering all of his personal bests in a career that began in 2014.
But it could happen in the near future.
Falcone, who has eight winners from just 24 starters at the Jersey Shore track (that's tied for fifth in the trainer standings), will look to add to his fast start with a pair of horses entered on Friday's eight-race card.
He has Ziaerati going in the fourth race allowance and Secret Rules in the sixth race optional claimer and both look like major contenders,
"We're definitely having a good start at Monmouth this year," said Falcone. "I wish I had a few more horses so I could compete for the training title. That would be pretty cool. But it's probably not going to happen this year.
"I just don't have the numbers. It's a numbers game when you're going for titles. So maybe not this year but hopefully in the near future."
Falcone, who has 23 horses stabled at Monmouth Park and another 35 at Saratoga, has by far the fewest starters of the trainers in the top five in the Monmouth Park trainer standings. Current leader Claudio Gonzalez has 17 winners from 84 starters at the meet.
Among Falcone's Monmouth Park winners so far is Spirit and Glory, who won the Miss Liberty Stakes on May 28.
"I think overall everything is falling into place for us at Monmouth Park," he said. "It's good teamwork. It starts with the team and then it's a matter of having horses that respond when you run them."
Falcone set personal bests in wins (31) and earnings ($1,810,749) a year ago. He is already at 28 wins and a little more than $1.1 million in earnings.
So he's in the midst of a career year, which includes six seconds and two thirds at Monmouth Park, where he is at 67 percent in the money in addition to his 33 percent win rate.
"It's definitely numbers," he said. "If I had to guess I would say this year I will have the most starts I've ever had. So it's a combination of numbers, getting better horses and having a good mix in the barn."
Ziaerati is a 3-year-old filly Falcone had high hopes for after she won by 8¼ lengths in her racing debut in Maiden Special Weight company on Jan. 15 at Aqueduct. Two off-the-board finishes followed before the daughter of Into Mischief just missed in allowance company at Monmouth Park on June 3.
"I'm glad to see her back in good form," Falcone said. "She was really exciting to watch first time out. We liked her a lot and she showed that her first race. We thought she would get better from there but the opposite happened. She was a disappointment after her first start so it was good to see her back on track in her last race."
In the sixth race, Secret Rules, a hard-hitting 6-year-old gelding, could be auditioning for his second-ever stakes try if he runs well, Falcone said.