Trainer Michael Stidham Hoping Summer Sweet Will Find Winning Ways In Sunday's Feature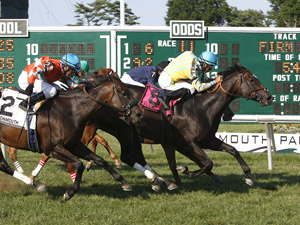 Whatever pressure Michael Stidham has felt since taking over the training responsibilities for Summer Sweet is something he sees as "good" pressure. His reasoning: It means he's in charge of a regally-bred horse. 
Summer Sweet, a $550,000 yearling purchase, will again try to get her career jumpstarted in Sunday's featured $40,000 allowance at Monmouth Park as part of a field of 12 going 5½ furlongs on the grass. 
Though the 4-year-old filly has been a disappointment in light of her purchase price, Stidham says he is always willing to take on the added expectations that come with high-priced yearlings. 
"It's the type of pressure you like to have as a trainer because it means you're getting horses that were well thought of as young horses and you hope they can eventually produce as a race horse," he said. "So I see it as a very good thing." 
Summer Sweet, owned by Virginia Kraft Payson, has just one victory in 16 career starts, though she has been on the board for half of those lifetime starts. Her career earnings entering Sunday are $56,348. 
Stidham took over as the filly's trainer in June of 2017 after she failed to show much during her first five starts under Christophe Clement in New York. 
"We tried her at Arlington Park when we first took her over," said Stidham. "She just gradually grinds it out. She always seems to be knocking on the door and running hard. She tries. And she's a sweetheart of a filly. She's nice around the barn and everybody loves her." 
Stidham has tried as many distances and surfaces as possible to see if he can get Summer Sweet rolling but she has yet to return to the winner's circle. She has gone both short and long on the turf, short and long on the dirt, and has raced on a sloppy track and yielding turf courses. The daughter of More Than Ready-Summer Solstice is also 0-for-10 on the grass.  
Sunday marks her third start this year at Monmouth after finishing third and second in a pair of optional claiming sprints. 
"The bottom line is she's by More Than Ready and she's out of a female family that is grass," said Stidham. "I just assume at some point that the grass pedigree will kick in for her and she'll run on it. That's why we're trying her on the grass again. 
"She is certainly bred to be a sprinting type on the turf so we're giving her another shot." 
The yearling price on Summer Sweet makes her the most expensive horse Stidham has trained during a training career that began in 1979, though he said he is "now getting some Godolphin babies." 
"But most of them are home-breds so they don't have an auction price on them," he said. "If they did, a lot of the ones I'm getting now from Godolphin potentially could be in the millions because of how they breed." 
For now, though, his focus is getting Summer Sweet into a winning habit. 
"Certainly you want to produce for the owner when they pay that kind of money," said Stidham. "But I think Mrs. Payson knew when she sent her to me that she wasn't living up to expectations for they paid. 
"She just wants to make the best of it and give the filly an honest chance in places she can be competitive. That's what I'm trying to do with her."