Trainer Michael Stidham Enjoying First Monmouth Meeting As He Awaits Readiness Of 2-Year-Olds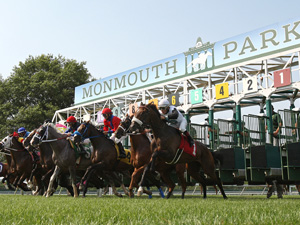 With the exception of persistent rainy weather, trainer Michael Stidham said his move to Monmouth Park has been everything he could have hoped for – and more. 
Stidham will send out his eighth starter of the meeting in Sunday's sixth race when he wheels back Summer Sweet off a strong second place finish in the slop on May 13 at Monmouth, but that number could easily be twice that already if not for a spree of races that have been taken off the turf due to the rain. 
Based primarily at Arlington Park and the Fair Grounds for most of his career, the 60-year-old Stidham made the move to Monmouth Park for the first time this meeting. 
"It's been very good," said Stidham. "We certainly like the accommodations and the track is in really good condition considering all the rain we've had. We haven't been able to run as much on the grass as we'd like because of the weather, but no one has control over tat. 
"We've been working horses and running horses and we like the way they are coming back. That's a credit to the dirt track. So we're very happy to be here." 
The combination of better weather and additional race days at Monmouth Park in July and August has Stidham poised to finally unleash the full brunt of his stable. He has 35 horses at Monmouth Park, 40 at the Fair Hill (Md.) Training Center and another 20 at Arlington Park. 
"Hopefully, when the weather gets better and there are more racing days in July and August we'll be able to run more at Monmouth," said Stidham, who shows a win, three seconds and a third from his seven starters at the meeting so far. "We have so many grass horses that it has made it difficult to get as many starts as we'd like because we've had to scratch horses after races have come off the turf. 
"I don't blame racetracks when they come off the grass. They're doing what's best for everyone involved. I get that. It's the circumstances that have stopped us from running as many horses as we'd like to have run by now." 
Another reason Stidham expects that to change in the near future is the influx of 2-year-olds he has. Monmouth Park's first baby race of the year was the opener on Saturday's 12-race card. 
"We had a huge shipment of 2-year-olds at the end of April and through May," said Stidham, who has spent most of the past month shuttling between Fair Hill and Monmouth. "Between our three strings we've got about 40 new 2-year-olds. Most of them are about halfway ready to run so they're maybe a month away from getting to the races.  
"We're going to have a lot of them racing within the next month and moving forward with our 2-year-olds." 
Stidham, who started training in 1979, is coming off two of the best years of his career. The 106 victories he posted in 2017 were a personal best. He had his best year from an earnings standpoint in 2016, when his starters accrued $3,747,766 in purse money. 
"I think the racing at Monmouth Park is similar to what we see at Fair Grounds," he said. "So I think our horses fit well at Monmouth. We're looking forward to getting a lot more in the starting gate very soon."