Trainer Michael Dini Pointing Dynatail To Saturday's Featured $75,000 Miss Liberty Stakes On The Turf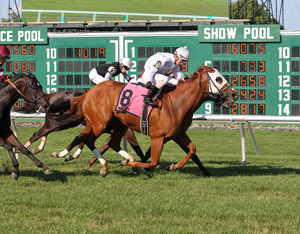 The best bargain of Michael Dini's training career will get a second chance to make her Monmouth Park turf debut in Saturday's $75,000 Miss Liberty Stakes, the feature event on a live 12-race card. 
Dynatail, purchased for $5,000 as a 2-year-old at the June 2016 Ocala Breeders' Sales, will look to pad her career bankroll of $263,910 in the nine-horse field of fillies and mares, 3-years-old-and up. She was scratched from the May 19 Politely Stakes at Monmouth Park when that race came off the grass. 
"The weather has made it tough for me so far because I have so many turf horses," said Dini. "We're hoping the rain holds off so we can get on the grass again." 
Dini served as the adviser when Ballybritt Stable LLC bought Dynatail for the bargain basement price and has managed the 4-year-old filly's career for all 19 of her starts. She has four wins and is a multiple stakes winner, though the daughter of Hightail-Southern Dynamo is 0-for-3 in 2018 after earning $237,490 last year. 
"She has been in a few difficult spots to start this year but I have no complaints with her," said Dini. "She has given us more than we could have ever asked for and she picks up a check more often than not. She has been a lot of fun for us." 
Dini expects Dynatail to be close to the lead, despite drawing the outside post nine in the mile and a sixteenth race.  
"There's a lot of speed in the race and I'm not too keen about that, especially having the far outside post," he said. "We'll just have to see how they break and then let things sort themselves out. I would think we'll be close early on but we'll see." 
Dynatail is coming off a third-place finish in an $80,000 optional claimer at a mile on May 24 at Belmont Park, a race Dini turned to after the Politely Stakes was taken off the grass. Seventeen of her 19 career starts have been on the grass, with the other two on synthetic. 
"I think a mile is her best distance, but I'm confident she can get a mile and a sixteenth, he said. 
Dini, who has 26 horses stabled at Monmouth Park, shows a 1-1-1 line from his five starters at the meeting, estimating he has had to scratch "five or six horses," when races were taken off the grass because of the rainy weather.