Trainer Luis Carvajal Hoping Success Continues With Prendimi In Sunday's Co-Featured $50,000 Allowance At Monmouth Park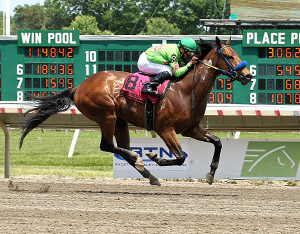 In the same quiet way he oversees a 20-horse stable that consists mostly of allowance horses, claimers and Jersey-breds Luis Carvajal, Jr. is well on pace to having the best season of his 13-year career as a trainer. 
The Santiago, Chile, native hopes to move a step closer to that accomplishment – modest for many trainers but a significant milestone for Carvajal – when he sends out Prendimi in Sunday's co-featured $50,000 allowance at Monmouth Park. 
"Being a small barn, I think we're doing pretty good for ourselves," said Carvajal. "I don't have a lot of horses but I have good clients that have been with me for many years so it's nice to have success for them. But we'll see. Knock on wood. You need the horses to stay healthy and to run the way they're supposed to. If that happens this could be my best year yet." 
For the year, Carvajal has 10 winners from 81 starters entering the weekend, with three of those victories from 18 Monmouth Park starts. His best year for victories was 2008 when he won 16 races. From an earnings standpoint he is at $582,408 this year, with his best year of $738,171 in 2017 within his sights. 
"It's been a good year so far," he said. 
Carvajal will be wheeling back Prendimi after just a week, largely because his third-place finish on Haskell Day in the same company he will run in on Sunday essentially took the place of a missed workout. 
The gelded son of Dance With Ravens-Cigno d'Oro shows a 1-2-3 line from seven career starts. The lone victory came at Monmouth Park on June 9 when Prendimi won a six-furlong Maiden Special Weight race by 4½ lengths. 
He will face six Jersey-breds going a mile on Sunday's 10-race card. 
"He still needs to mature," Carvajal said of Prendimi. "He doesn't quite get the hang of it yet. He doesn't really know how to run yet. 
"(Jockey) Chris DeCarlo told me he seems like he's better going long because he's such a big horse. Once he gets into his stride he's good. But he has a lot of room to improve." 
Carvajal, 46, learned about racing from his father, who was a jockey in Chile. He spent 10 years as an assistant to Robert Durso, whom he refers to as "one of my mentors." He keeps 10 horses at Monmouth, 10 at Parx and spends the winters in Florida, mostly at Tampa Bay Downs. 
"Hopefully we can keep going and keep winning," he said. 
First post for Sunday's card is 12:50 p.m.