Trainer Kent Sweezey Finding His First Season At Monmouth Park To Be A Learning Experience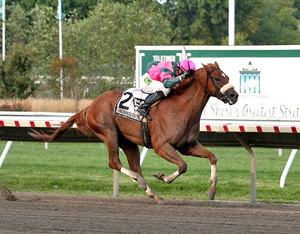 Trainer Kent Sweezey is confident the winners will come soon enough for him at Monmouth Park, possibly as soon as Sunday, May 20, when he saddles Storm Cry in the sixth race. Until then – and despite the 0-1-2 line from the eight starters he has sent out at the meeting so far – the 32-year-old Kentucky native is making the most of his first season at the Shore track. 
Having grown up on Lexington, Ky.-based Darby Dan Farm, where his father was general manager, Sweezey considers himself a student of the history of Thoroughbred racing. And Monmouth Park, as he has discovered, is steeped in it. 
"This is nothing at all that I expected – in a good way," said Sweezey, who started training on his own a little more than a year ago. "I didn't know the history of Monmouth Park, how many great horses have raced here, how many great trainers have come through here. 
"It's really cool to experience it for the first time. Even walking through the paddock and seeing the names of so many great jockeys who have ridden here. That's what I grew up with. I know every jockey who has won the Haskell Invitational and all of the silks that have won the race. I know who they are and I love seeing a track with so much history." 
Even walking through the track's grandstand, Sweezey said, is like a trip back through his childhood. 
"I love the silks they have hanging as banners," he said. "I recognize almost all of them." 
Sweezey said he had never been to Monmouth before arriving for the start of the 52-day meet on May 5. That has made almost every day a revelation of sorts for him. 
"I didn't realize the beach was as close as it is," said Sweezey, whose parents own Timber Town Stable, a breeding and boarding operation in Lexington, Ky.  "People kept telling me `you're going to be right next to the beach.' In my mind I thought it would be one of those New England-style beaches with the big rocks and the waves crashing on them. 
"But this is the real deal. I love that. This is just a great place to be." 
Sweezey, who has been around horses for as long as he can remember, was tutored by Christophe Clement, Eoin Harty and Jimmy Jerkens before going out on his own in April of 2017. 
He currently has 22 horses stabled at Monmouth Park, with four more arriving next week. He said he hopes to further add to his equine roster after attending the Midlantic 2-Year-Olds in Training sales at Timonium, Md., next Monday and Tuesday, May 21 and 22. 
For now, though, because he's enjoying his maiden visit to Monmouth Park so much, he feels growing self-imposed pressure to break through with a winner. 
"You always want to do well at a place you like being at," he said. "For the most part my horses have run good. No one has run poorly except for maybe one horse. Of course I want to get off the duck as soon as I can. I know we'll get there. I just hope it happens soon."