Trainer Kelly Rubley Seeking First Graded Stakes Win In Saturday's Monmouth Stakes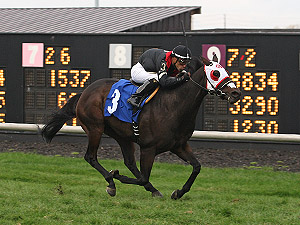 Trainer Kelly Rubley admits to feeling a little more pressure than usual about sending out Divisidero in Saturday's Grade 2 Monmouth Stakes, the feature race on the track's first bundled stakes card of the season. 
Having taken over the training responsibilities of the two-time Grade 1 winner in February from William "Buff" Bradley, Rubley knows this is the opportunity she has been waiting for since she gave up a career as a teacher and school administrator to go out on her own as a trainer in 2014. 
She has had success since then, but no graded stakes winners – at least not yet. 
"It would be a big milestone from me," Rubley said by phone from her base in Fair Hill, Md., where she oversees a string of 50 horses. "We've won stakes but no graded stakes at this point. So it's exciting to have a horse in my barn that has the potential to do that for us." 
Divisidero is the most accomplished horse in a solid field of seven 3-year-olds and up going a mile and an eighth on the grass, having twice won the Grade 1 Turf Classic at Churchill Downs at the same distance. But getting Rubley her first graded stakes win means the late-running 6-year-old son of Kitten's Joy will have to get by defending Monmouth Stakes winner Money Multiplier, Grade 1 winner Force The Pass, Grade 2 winner Projected and Grade 2 winner Frostmourne. 
The $200,000 Monmouth Stakes will go as the 12th race on a 13-race card that kicks off a busy three-day Memorial Day weekend of live racing from Saturday through Monday. The bundled stakes undercard includes the Grade 3 Salvator Mile, the $75,000 Boiling Springs and the $60,000 John J. Reilly Handicap. 
Rubley, who has master's degrees in secondary education and administration (she holds bachelor's degrees in biology and chemistry), inherited most of the Gunpowder Farms-owned horses when they were switched over to her from Bradley in the winter. 
Divisidero did not come under her care until February and last raced on Oct. 7, 2017 at Keeneland. 
"He had not been training for a while when I got him. He was mostly just doing swimming," said Rubley, who previously worked as an assistant to Barclay Tagg and Jimmy Toner. "But he has moved forward at every step we've asked. I took my time getting him ready and kind of let him tell us when he was ready to do more. 
"Fortunately he's a pretty straightforward horse. I'm excited to see him run." 
Divisidero, three-for-four at the nine furlong Monmouth Stakes distance, shows a 5-2-3 line from 16 career starts. His lifetime earnings are $1,137,950. 
Rubley will also saddle Papa Zulu in the Salvator Mile, but acknowledges "it's a bit of a reach for him." 
"He will try hard, I know that," she said. "I'm not sure a mile is his best distance but we'll see. He's another one who came into our barn over the winter and we're trying to find out a little bit about him. So we're kind of taking a leap in the Salvator Mile to see where we fit." 
Post time for Saturday, Sunday and Monday is 12:50. Gates will open at 11 a.m. Saturday and Sunday to accommodate food enthusiasts attending the thee-day Jersey Shore Food Truck Festival, which features 45 food trucks and is part of a full schedule of events at Monmouth Park all three days. Gates will open at 11:30 a.m. on Monday.