Trainer Kelly Breen To Send Out A Pair Of "Babies" On Friday As Monmouth Park Holds First 2-Year-Old Races Of The Meet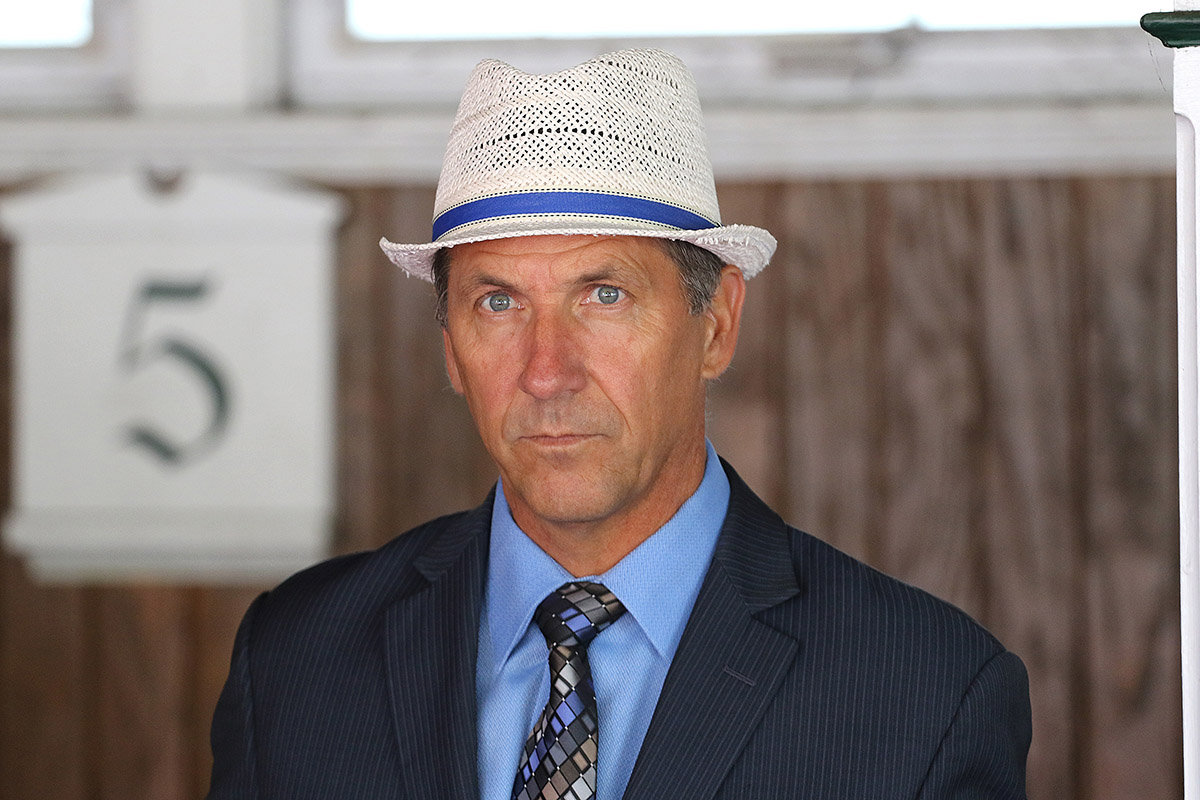 This is the part of training Thoroughbreds that runs the gamut of emotions for Kelly Breen, with equal parts of anticipation, excitement and anxiety.
Monmouth Park will hold its first 2-year-old races of the year during Friday's twilight card – a pair of 4½-furlong dashes for Maiden Special Weight fillies – and Breen will send out a "baby" in each one.
He's confident that Rosemary Potatoes, who goes in the first race, and Next Tuesday, set for the third race, are as well prepared as they can be for their debuts. But he knows you can never be sure with 2-year-olds.
"I don't want to say anything about what I expect because a lot of times young horses will make you a liar," said Breen, who is seeking a second straight Monmouth Park training title and fourth overall at the track. "I could tell you that one is extremely fast out of the gate. But once I say that they often get left. So I'm just going to watch them run along with everyone else. They're trained well. I guess I'm both cautious and optimistic that they will run well."
Both fillies are owned by Gold Square LLC (Al Gold).
The first 2-year-old race of the meet has attracted a field of seven, including a pair of Todd Pletcher-trained runners in Where's Bridgit and Always a Party.
Eight are scheduled to go in the second 2-year-old race, with Pletcher, a recent addition to the Racing Hall of Fame, represented by Miss Interpret.
"A lot of these 2-year-old races for me is about the enthusiasm and hope that maybe you have something that just might be special," said Breen, "because in 2-year-old races, as opposed to races with older horses, if you have one that runs well you're immediately picking out stakes races.
"We'd like to start to know what we have."
That eagerness to know – and the accompanying anxiety – extends to aspiring bloodstock agent Joe Hardoon, who picked out both horses for Gold. They're the first two the 23-year-old has ever selected at sales.
"I am nervous but I'm also excited," said Hardoon. "We've been sitting on these horses since September, watching them grow up and develop. We went down to see them a few times in Ocala (Florida) along the way.
"It's finally time."
Hardoon, who has been mentored by Chad Summers, knows that how the fillies perform in their debuts is not a referendum on the career he is pursuing since he is just getting started.
"I appreciate the opportunity Al Gold has given me," said Hardoon. "Not many people are given this opportunity, especially at such a young age."
Rosemary Potatoes, a daughter of Exaggerator-Sexy Maddie by Hard Spun, came out of the Fastig-Tipton September Sale. Next Tuesday is a daughter of Kantharos-Suzy'sprideofparis by Lemon Drop Kid. Hardoon selected her at the Keeneland September Sale.
First race post for the six-race Friday card is 5 p.m. First post for Saturdays and Sundays throughout the meet is 12:15 p.m.