Trainer Kelly Breen Hoping Roaming Union Finds His Best Stride In Haskell Invitational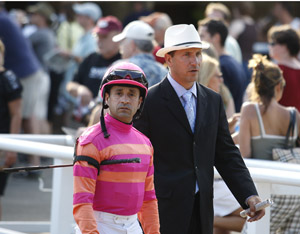 Trainer Kelly Breen hasn't yet been able to coax the best out of Roaming Union but he's hoping that changes during the 3-year-old colt's next start. That will be in the $1 million betfair.com Haskell Invitational, with the 51st edition of Monmouth Park's showcase race set for Sunday, July 29. 
Second by a neck in the Pegasus Stakes at Monmouth on June 17, Roaming Union will face his stiffest test yet in the Grade 1 Haskell. 
Kentucky Derby runner-up Good Magic, Preakness runner-up Bravazo, Navy Commander and late invitee Reride, third in the UAE Derby, are the other likely starters, with two or three more possible from a group that includes Lone Sailor, Mr Freeze, Promises Fulfilled, Core Beliefs and Flameaway. 
The nine-furlong Haskell Invitational will be televised live on NBC-TV from 5-6 p.m. 
Roaming Union, with a 1-3-2 line from 11 lifetime starts, faltered in his first try to compete with top 3-year-olds in the winter, but Breen is hoping the son of Union Rags-Double Gelato, owned by George Hall, is finally coming into his own. 
"I was hoping he would get bigger and stronger in his frame at the start of the year but he never really did," said Breen, currently third in the Monmouth Park trainer standings. "Maybe he's a late bloomer. That's my hope." 
Breen was encouraged by the horse's second-place finish in the Pegasus, as well as a work on July 17 of :59.60 handily for five furlongs. 
"No question in my mind that the horse to beat is Good Magic," said Breen. "I don't know if we're going to be a target for Good Magic or not but I'd like to be forwardly placed and hopefully he will turn in the type of effort I think he is capable of." 
Breen has had his share of success from his four previous Haskell starters, with Belmont Stakes winner Ruler On Ice finishing third in 2011 and Praying For Cash getting second to Bluegrass Cat. 
"It's the Haskell, it's my home track and we have a 3-year-old who is ready to run," said Breen. "I'm all in."