Trainer Jorge Navarro On Verge Of Setting Win Record At Monmouth Park For Third Straight Year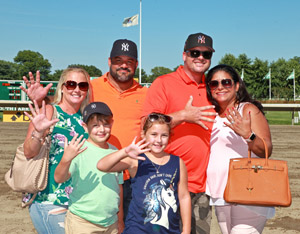 Jorge Navarro's training accomplishments at Monmouth Park continue to sound like a broken record. 
With three horses entered on Thursday's card, the 43-year-old Navarro can set the track record for victories for the third straight year if he manages to win all three races. Even if he falls short he still has 13 racing cards left starting on Friday. 
Navarro, currently with 63 victories at the meeting, is looking to break the mark of 65 he set in 2017 after surpassing a record that stood for 41 years by winning 59 races in 2016. 
He's also well on his way to an unprecedented sixth straight training title. 
"Of course it means a lot to break the record again," said Navarro. "But to tell you the truth, the first time I set the track record in 2016, it had belonged to John Tammaro III and then J. Willard Thompson tied it in 1975. That was the year I was born. And I became great friends with Willard Thompson. So that was really special to surpass what Willard Thompson had accomplished in the year I was born." 
The Panama City, Panama native insists he didn't set out to break the single-season mark again when the meeting began, either. 
"It really wasn't on my mind because last year was such a special year for us and those kinds of years are hard to duplicate," he said. "But I was sitting down with Steve Worsley (the agent for leading rider Jose Ferrer) before the meet began and when we looked through the condition book he said `you're going to break the record again.' 
"I looked at him and said `There is no way. Don't put that pressure on me. Too many things have to go right for you.' I really thought that what happened in 2017 was amazing and that there was no way it could happen again. But here we are." 
Navarro has been able to wring out those 63 victories so far from just 144 starters. Overall, his horses have been in the money 106 times. 
Twice this meet he has saddled five winners on a single program, tying the track record he already shared with Todd Pletcher. 
"All of the records are very meaningful to me," he said. "Whether I win with a $4,000 claimer or a stakes horse I appreciate all of it. 
"Listen, I am very hard on myself. I lose once race and you can tell on my face that I'm upset. Deep inside I want to win them all. I'm sorry, but that's the way I am. But I have also learned to appreciate it and to enjoy things when you win." 
He said the records take on added significance because they're happening at Monmouth Park. 
"This is my home," said Navarro, who closest competitor in the trainer's race is Jason Servis with 29 winners. "I love this place. I don't have words to express how much I appreciate what they've done for me and how they have opened their arms to me, my horses and my owners." 
For anyone wondering what he can do for an encore in 2019, the answer is that Navarro is already working on it. 
"I'm already trying to figure out how I can be even better next year," he said. "What do I need to do next year to be better than I was this year? I've already talked to my owners about that. We're looking at being even better next year."