Trainer Jorge Navarro Notches 66th Winner Of The Meeting To Set Monmouth Park Record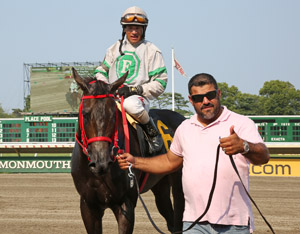 The only threat to trainer Jorge Navarro's place in the Monmouth Park record book these days seems to be Jorge Navarro. 
Winning with all three starters he saddled on Thursday's card, the 43-year-old Navarro set a track record for victories for the third straight year, with Find the Money's hard-fought win in the eighth and final race marking the conditioner's 66th winner of the meeting. 
That broke the mark of 65 Navarro set last year, after he eclipsed a 41-year-old record by recording 59 winners in 2016. The record-breaker this year came with 13 racing days remaining in the meeting. 
"I'm walking on air right now," said Navarro. "What else can I ask for in this sport? Honestly, I can't believe it was done again. I knew it would happen when I was getting close but when the meet started this was the furthest thing from my mind. Too many things have to go just right for this to happen." 
With 66 winners from 147 starters at the meeting, Navarro is well on his way to an unprecedented sixth straight training title. 
The Panama City, Panama native said he was more emotional than he thought he would be in breaking the record because his family was not around to share in the moment. His children have already started school in Florida. 
"That's why it's emotional. My family is not here," he said. "They love stuff like this. And I live for my family. So it's a mixture of emotions right now." 
Navarro had been in Saratoga on Wednesday, driving back to Monmouth Park this morning to watch his three starters race today. 
"I'm as hands on as I can be with all of my horses," he said. "I'm hard on myself and I'm hard on my help. But it makes you appreciate and enjoy success even more when you work hard and see results like this."