Trainer Jorge Navarro (Five Winners) And Jockey Jose Ferrer (Six Winners) Dominate Monmouth Park's Sunday Card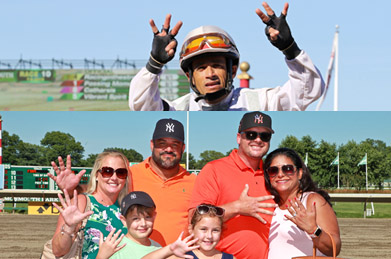 Trainer Jorge Navarro tied a record he already shared with five winners on Sunday's Monmouth Park card, falling short of setting a new mark only because his other starter on the day finished third. 
The track's leading trainer with 35 wins from 86 starters, Navarro matched the record for winners on a single program he first tied on July 23, 2017 and then equaled earlier this year on May 13. Todd Pletcher was the first trainer to win five races on a Monmouth Park card, doing so on Haskell Day in 2016.
"I thought we had a chance to win a few today," said Navarro, seeking a record sixth straight Monmouth Park training title. "What I do is I enter my horses where they belong and I'm fortunate to have great owners who believe in me and allow me to put the horses where I think they belong." 
Navarro won the first race with Gambler's Ghost ($3.00), the fourth race with Polished Steel ($2.80), the fifth race with Nauset Beach ($3.20), the seventh with Rhythm Park ($3.80) and the ninth race with Great Rhythm ($4.00). 
His only miss among his six starters on the 12-race card came in the third race when Billy's Jump Start finished third. 
Navarro said he anticipates getting six winners on a future card and setting a new record before the meet ends. 
"That's the goal," he said. "I tried to do it today. I fell short by one race. We'll get it one of these days. I have confidence we will." 
Jockey Jose Ferrer, meanwhile, nearly treated the crowd of 12,619 to a second record-tying performance, riding a personal-best six winners. He fell just short of tying Paco Lopez' track record of seven winners when even-money favorite Won and Done faded late to finish third in the 12th and final race. 
Three of Ferrer's winners were for Navarro. 
"I rode five winners at the Meadowlands and Garden State but never six in a day," said Ferrer. "It feels great. It feels fantastic. I had a feeling this would be a good day. Everything looked pretty good. But you don't expect this. No one thinks about getting six winners." 
Ferrer, who also had three thirds from his 10 mounts, took over sole possession of first place in the jockey standings with his big day. He came into the card tied atop the rider standings with Paco Lopez with 29 winners. Lopez was shut out on his four mounts. 
Ferrer, 54, won with Gambler's Ghost in the first, Stormy Change ($6.00) in the second, Nauset Beach in the fifth, Rhythm Park in the seventh, Sindarius($5.80)  in the eighth and Racinginthestreet ($10.40) in the 10th race. 
Won and Done had the lead in deep stretch in the 12th for a potential seventh winner but couldn't hold off longshot Jiggy Cheese Dog or Afleet Melody. 
Lopez set the single-program record at Monmouth Park by twice riding seven winners in a day in 2014 – on May 17 and June 7 of that year. 
Ferrer nearly matched that in his 37th year as a rider. 
"I'm super fit right now. I work out almost every day at the gym," said Ferrer. "And I'm riding with confidence. It helps to have the experience I have. It helps a lot out there." 
Ferrer has ridden more than 4,200 winners from just over 29,000 mounts during his career.