Trainer Jorge Duarte Leaning Toward Sending Out Pair In Saturday's Unbridled Elaine Stakes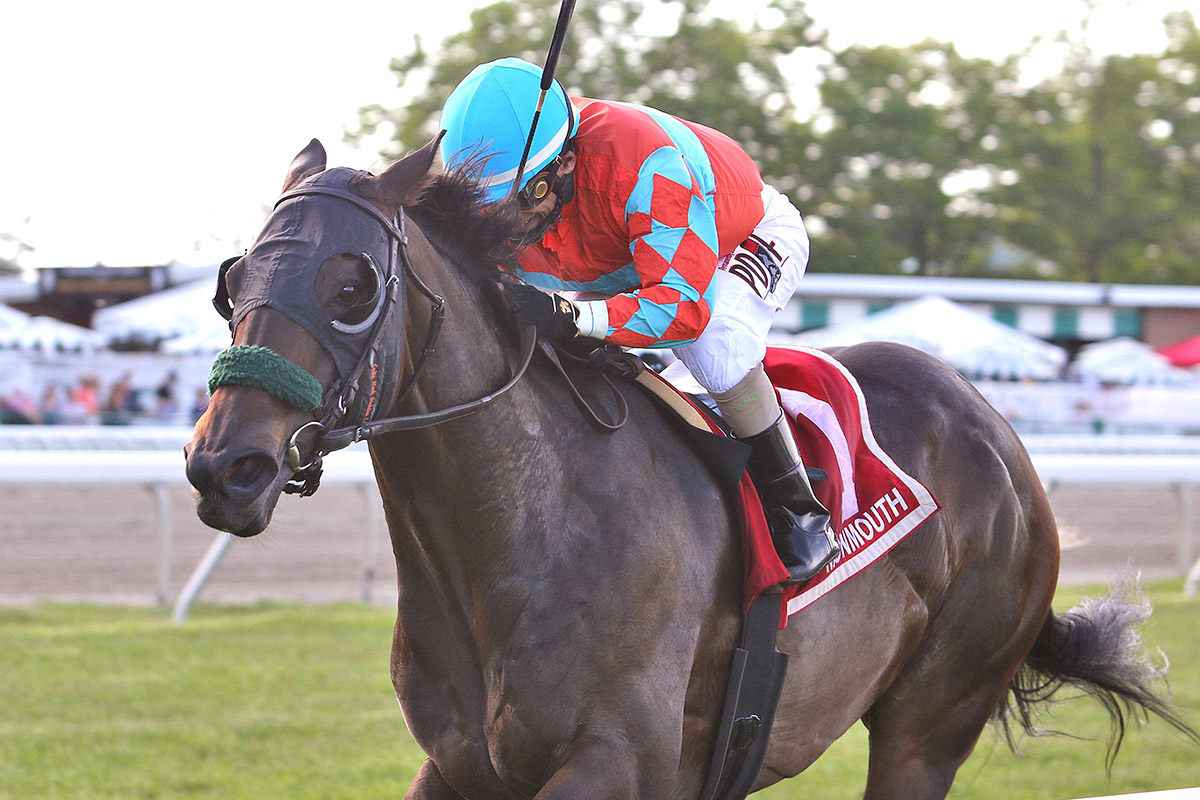 In a perfect world, trainer Jorge Duarte Jr. would be pointing to separate turf stakes sprints on Saturday for Misericordia and Goldwood, since both 5-year-old mares are ready to run again. But with limited options available, he is leaning toward sending out the two of them in the $75,000 Unbridled Elaine Stakes that tops Monmouth Park's 13-race card that day.
"We're heavily thinking of running both," said Duarte, in his first full year as the lead trainer for Colts Neck Stables, having taken over the daily responsibilities from Alan Goldberg in December. "It's not our favorite thing to do. But the spot favors us. We think we can get both of them placed. They're both ready to fire. They're both coming off good races."
The Unbridled Elaine, for fillies and mares three and up, will be contested at five furlongs on the turf. For Goldwood, it's an opportunity to become a multiple stakes winner at the current Monmouth meet.
The daughter of Medaglia d'Oro-Crimson Maple by Rahy won the Politely Stakes by 1¾ lengths on May 18.
For Misericordia, coming off a third-place finish in the $100,000 The Very One Stakes at Pimlico on May 18, it's another chance to start fulfilling her potential.
"They have two different running styles, which makes the decision a little easier," said Duarte. "Goldwood has speed and on a good day she carries that speed. Misericordia has a style that might fit the pace scenario. She has been highly regarded by us but she still hasn't put it together completely.
"I wouldn't be surprised if she jumped up and won a race like this."
Goldwood, with a 5-2-2 line from 11 career grass starts, is "a very classy, very honest horse," said Duarte.
Misericordia, with a 3-1-2 line from 14 lifetime starts (all on the grass) "can be a good one if she puts it together," Duarte said.
The stablemates have met once before, with Goldwood finishing third and Misericordia fifth in the five-furlong Captiva Island Stakes on the grass at Gulfstream Park on March 9.
"When this happens you root for the barn," said Duarte. "The main thing is you hope the race unfolds the way you think it should and they get a fair trip."
Situations like these were something Duarte never had to worry about before taking over from Goldberg, who now serves as the racing manager for Colts Neck Stables.
A former jockey – he won 424 races between 2000 and 2010 – Duarte has both ridden and trained in Saudia Arabia and Dubai, serving as an assistant trainer in King Abdullah Bin A'Aziz Al-Saud's stable in Riyadh for four years.
He became Goldberg's top assistant four years ago.
"Everything has been smooth," said Duarte, who has four wins, a second and two thirds from 11 starters at Monmouth Park this year. "I have to thank Alan and (Colts Neck Stable owner) Richie (Santulli) for the opportunity and for being there when I need them. Alan has been very supportive and is always there if I need him."
Duarte, 34, said Goldberg stepped aside to spend more time with his family.
"He is still very active and very involved and we talk every day," said Duarte. "It's a good situation for me. I just want to continue the success he had."