Trainer Jorge Delgado Looking For Breakthrough For Olivia Darling In Saturday's $100,000 Regret Stakes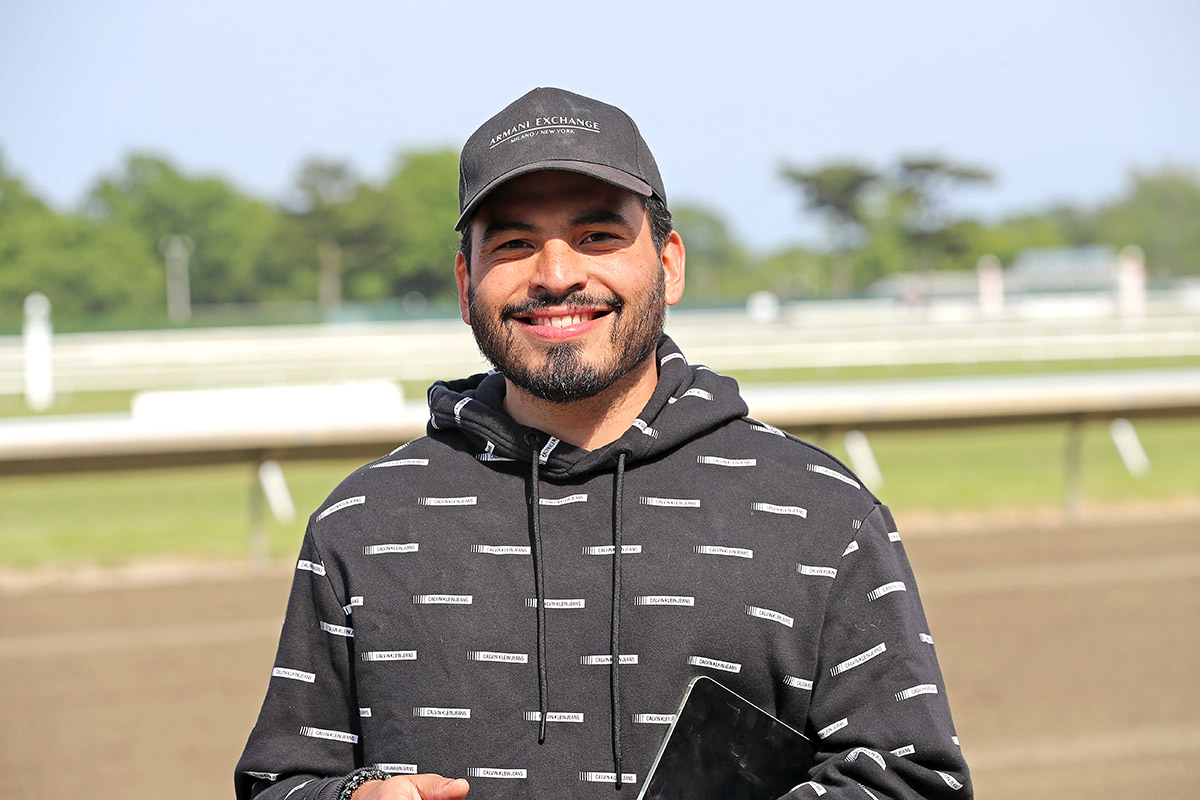 Trainer Jorge Delgado isn't sure whether it's simply the addition of blinkers or a case of late maturity when it comes to the vastly-improved Olivia Darling, but now that he has unlocked the secret to the 4-year-old filly the goal is to get her a stakes win.
The next opportunity comes up in Saturday's $100,000 Regret Stakes, a six-furlong dash for fillies and mares, 3 and up, that headlines Monmouth Park's 10-race card that day.
"Since we added the blinkers she has been pretty straightforward and always close to the lead," said Delgado. "I'm not sure if that's the only reason or if she is just more mature now. It could be both. But her performances are much better now."
Since coming into Delgado's care five races ago, and with the addition of blinkers immediately, Olivia Darling has two wins and three seconds, missing by a neck in the Skipat Stakes at Pimlico on Preakness Stakes day (May 20). Overall she has a 3-5-1 line for 12 career starts.
"I thought we had that race won," said Delgado, whose uncle Gustavo Delgado trains Kentucky Derby winner Mage. "It was a good race for her against a talented group and she beat seven fillies that day so I was pleased with the way she ran."
A Kentucky-bred daughter of Palace owned by AMO Racing, Olivia Darling has been second in her two previous stakes tries.
This one, Delgado believes, could be her breakthrough.
"She loves six furlongs. That's her specialty," he said. "She hasn't run at Monmouth Park before but after seeing her breeze here she seems to love this racetrack. Hopefully she breaks well and be close to the lead and can kick in and win the race."
A field of seven has entered the Regret.
For Delgado, a 33-year-old native of Maracaibo, Venezuela, Oliva Darling offers another chance to add to a solid win total so far (9-of-36 at Monmouth Park), but one that has him less than satisfied.
"Honestly, I believe we could have won more races, but when you get seconds and thirds sometimes it doesn't go your way," he said. "There are still 2½ months to go in the meet. We're working on achieving more wins.
"I don't have a lot of claimers and it's hard to win these better races but 100 percent the goal is to win the training title at Monmouth Park."
Delgado, who has 63 horses stabled at Monmouth Park, will also send out Larry Lightening in Saturday's Alapocas Run Stakes at Delaware Park. Lightening Larry, a Grade 3 winner, won the Mr. Prospector Stakes at Monmouth Park on May 29.
Delgado, who started training in 2017, is on pace to exceed his overall win total of last year (a career-best 84), which would mark the sixth straight year his win total has increased. He got his start in racing as a youngster growing up near Hippodromo de Santa Rita near his hometown in Venezuela – the same track that served as the launching point for Hall of Fame jockey Javier Castellano and his uncle, Gustavo Delgado.
"It was a great learning experience," said Delgado, who finished fourth in the Tampa Bay Downs trainer standings this year. "You learn to do a lot with nothing."
The field for the Regret Stakes from post position one on out (with trainer and jockey): Self Isolation (David Jacobson, Jeiron Barbosa); My Beautiful Belle (Chuck Spina, Jomar Torres); Caliente Rum (Bill Hogan, Lane Luzzi); Olivia Darling (Jorge Delgado, Isaac Castillo), Sweet Willemina (Scott Lake, Frankie Pennington); Oxana (Tim Hills, Jairo Rendon) and Edie Meeny Miny Mo (Michelle Hemingway, Jose Gomez).