Trainer Jonathan Thomas, With Two Possible Starters, Takes Aim At Sunday's $100,000 Jersey Derby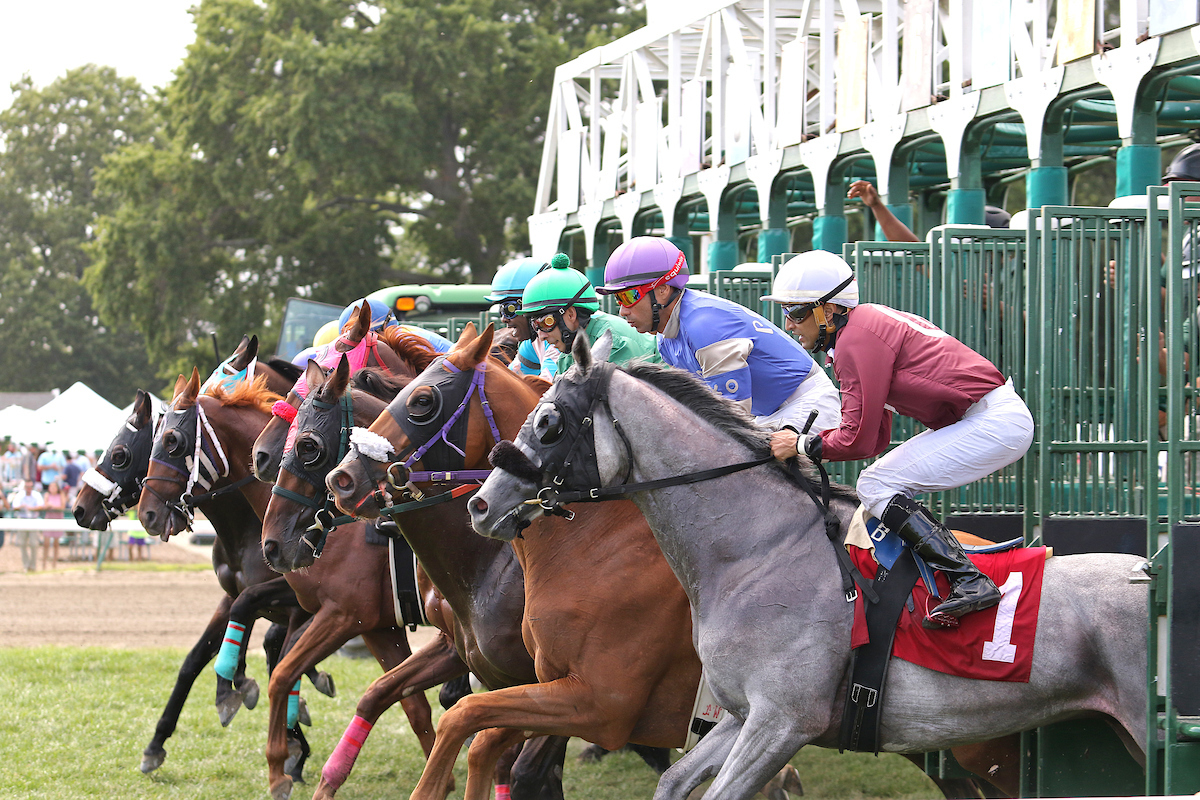 If trainer Jonathan Thomas does wind up starting both horses he nominated to Sunday's $100,000 Jersey Derby at Monmouth Park, he should have most of the distance angles covered.
High Front is a sprinter who would be stretching out to what Thomas feel "is probably his limit" in the one-mile feature for 3-year-olds. Fuerteventura, who won his last start at a mile and a sixteenth and hints at wanting to go even longer, would be going "about as short as he wants to run."
"They're kind of opposite horses," said Thomas, who is again based at Monmouth Park this summer and has a win and a second from his two starters at the meet so far.
Fuerteventura, 2-for-3 lifetime, is a definite go for the 79th edition of the Jersey Derby, Thomas said – provided Mother Nature cooperates and the race stays on the turf. High Front was cross-entered in Sunday's seven-furlong Paradise Creek Stakes at Belmont Park.
"I would imagine a mile is as far as (High Front) wants to run," said Thomas. "So I'm going to take a look at both spots for him. I don't know what we're doing with him yet.
"If we were to try him in the Jersey Derby I like the configuration of Monmouth Park going a mile on the grass. So we'll see."
The Kentucky-bred Fuerteventura, a gelded son of Summer Front-Casanova Strike by Summer Strike, is 2-for-3 lifetime, with both victories coming at Gulfstream Park. He broke his maiden going a mile and a sixteenth on the grass, then won a starter optional claimer at a mile and 70 yards on the Tapeta surface, after the race was taken off the grass.
"He handled both surfaces well," said Thomas. "But I think a mile is about as short as he wants to run. I feel like he can run a really nice race and run out of ground and gallop out well. But that depends on the complexion of the race, too."
Fuerteventura, unraced at 2, is owned by Robert LaPenta and Brereton C. Jones.
High Front, also bred in Kentucky, won at first asking on Jan. 28 by 6½ lengths at five furlongs on the turf at Gulfstream Park, followed by a third-place finish against older horses at five furlongs on the grass on April 7 at Gulfstream. He was then second, beaten just a half-length, against older horses at six furlongs on the turf at Belmont Park on May 5.
The son of Summer Front-Tide is High by Broken Vow was also unraced at 2. He is owned by Augustin Stable.
"He is a horse that acts like he has talent," said Thomas. "But we've got a couple of things we need to iron out with him to have him as a professional product. It's not that he's bad. He just puts himself in some spots and gives himself a little more to do than he should have to do."
For Thomas, even if he starts just one in the Jersey Derby, it will be a nice convenience to simply walk a horse over to the front side. In the past six weeks he has started horses at eight different racetracks.
"You always want to stay loyal to your home track and right now Monmouth Park is our home track," he said. "But when horses are right and the right races come up you kind of have to go for it. The great thing about this time of year is that there a lot of options for different horses."
The Jersey Derby falls in the middle of a three-day Memorial Day weekend of live racing and is bookended by Saturday's $100,000 Cliff Hanger Stakes and Monday's $100,000 Miss Liberty Stakes.
First run in 1942, the Jersey Derby has been won by the likes of Citation, Iron Liege, Spend a Buck and Snow Chief before it was switched to a grass race.
The holiday weekend will also mark the return of the popular Jersey Shore Food Truck Festival, featuring 35 trucks, over the three days.