Trainer John Stephens Hoping To Debut A Pair of 2-Year-Old Turf Fillies Sunday If Weather Holds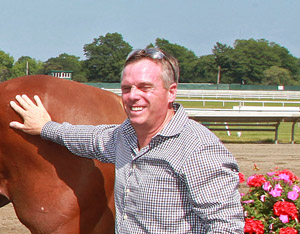 With all of the work that John Stephens puts into getting a young horse to the races – more than most trainers, since he and his wife, Jill, spend their winters breaking babies at their 105-acre farm near Ocala, Fla. – he could easily be discouraged by a forecast of rain for a pair of 2-year-olds he wants to debut on the grass at Monmouth Park on Sunday. 
But having been in the thoroughbred racing business for as long as he has, Stephens knows you have to take situations like these as they come. 
"That's just racing," he said of a forecast that threatens six scheduled grass races on Sunday's 10-race card. "You can't have the highs be too high or the lows be too low or you'll be all over the place. You just prepare, hope the weather holds and the races go on the grass." 
Stephens intends to send out both Art Thief and Temperance in the $36,000 Maiden Special Weight five-furlong turf sprint for 2-year-old fillies that will go as the fifth race – but only if the race remains on the turf. 
"They're both turf horses," he said. "Temperance, with her sire The Factor, they're all running on the grass. And her mom, Grace Phil, made $400,000 on the grass. So we think she has the potential to be a tough customer on the turf in the afternoons." 
The race has drawn a field of nine, including main track only entrant Super Tigress, with trainer Wesley Ward sending out two second-time starters in Cyclical and Abaco Dream. 
Even with a barn limited to just six 2-year-olds Stephens said he has no reservations about sending out two in the same race. He and his wife co-own both fillies. 
"I don't have a lot of situations like this to where it bothers me," he said. "Both horses are ready to run. I don't mind a horse having a race for educational purposes and to get started. 
"My real focus is breaking babies in the winter so I'm not concerned about win percentage or things like that. If they can get a race and get educated, that's what I am looking for. It's actually easier getting them a race on the grass than it is two more works on the dirt, so something like this situation has its pros and cons." 
Though Stephens tries to sell as many of the young horses that he can, he has won three races at the Monmouth Park meeting and seven already this year. Among the future stars he and his wife broke at their farm was 2006 Kentucky Derby winner Barbaro. 
"With the young horses we have we try to get them sold if we can," he said. "But if the money is not right and they're a little better horse we keep going with them." 
Art Thief, by Regal Ransom-Artistry, and Temperance both come in off two published turf works. 
"If they get an education and run well, I'll be pleased," Stephens said.